Although it probably shouldn't be a surprise, the one thing I have been asked more about travel in Africa than anything is the cost.  Well, the truth is there is no set price or budget.  Every country changes, every city is different, and of course each person has their own standard of living that they require.
Like a good budget traveller, I've been keeping tabs on my spending throughout Africa.  However, it wasn't until a recent comment on the blog here that I realized that what I've been spending on average would be of interest to you.  Thus, I'm spilling the beans.  This is my budget for West Africa (Senegal to Nigeria).  There are some minor holes that I had to go on memory, but for the most part this is what I spent in each country along the way.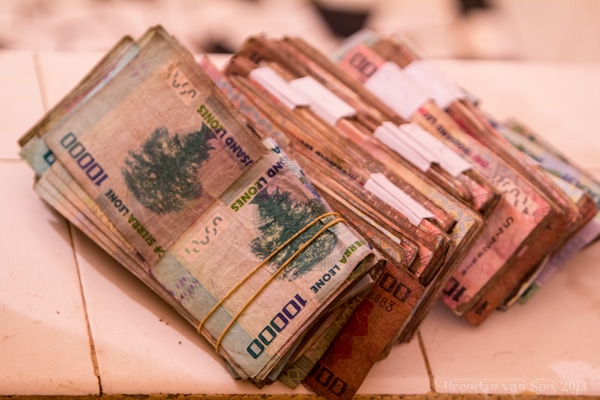 In general, I aim for an average of 45USD a day no matter where in the world I travel. Now, that number was actually a little bit higher in West Africa, mostly due to the cost of visas as well as the lack of the ability to cook for myself. That being said, had I really wanted to, if I was willing to sleep in really rough accommodation and eat nothing but local street grub, I could have spent less than I did, much less.
At the end of the day, I have found that the idea that Africa is an expensive place to travel is a myth.  I haven't missed out on nearly anything due to high costs and my budget has been about the same as it was in South America, a famous budget travel spot.
Expat vs. Backpacker Budget
It is possible to travel West Africa on a backpacker's budget.  Even with the visa fees and occasional high cost of a tour or hotel, it's completely possible. I could easily drop my food budget in every country to $7 a day or less if I ate only local grub.  However, I tend to splurge too often on expat meals.
Accommodation Costs in West Africa
What I like about West Africa is the availability of mid-range rooms.  In most places your options are dorms ($10-15/night) or private ($50-100/night).  However, in West Africa you can get private rooms for midrange ($10-25/night) prices.  Also, if you are willing to really rough it you can spend as little as a dollar or two a night on a room.  You can also couchsurf to save money.
Cost of Activities
Activities. I thought that this would be a larger chunk of my spending, but the few safaris there are in West Africa are really reasonably priced.
Part of the lack of activities costs in my budget is just down to the fact that tourism isn't really established in West Africa. If there were more tourist activities, I would definitely spend more money. However, I'm often just exploring towns – and that doesn't have cost.
Cost of Internet
In the English-speaking countries, there is very little wifi and I had to rely on USB internet which is expensive because you need to by the stick and the pay by the megabyte.  Wifi isn't as available as I expected. But, you can get a SIM card and tether your own data. This is probably the best way to go about things.
In the French-speaking countries it seems that the wifi situation is a little bit better. Again, I'd highly recommend getting a local SIM card or an eSIM where one is available.
Visiting West Africa on a Budget
I was honestly worried about the costs of travelling West Africa. I hear that things like the accommodation would be really expensive. I was also told that transport was expensive. But, I do think that if you travel and live a bit like a local, you'll find the costs are really not that bad at all.