Update: Expedia bought Trover. Then a couple years later they decided to discontinue the app. I'll leave this post up for historical data, because it was a really good app for photographers. Maybe someone will do something similar?
A couple weeks ago I was introduced to a new app geared for travel photographers called Trover.  Obviously, with the multitude of other travel photography and social sharing photo apps out there, I was a little bit skeptical about whether or not having yet another app would offer any value.
However, after playing around with the various functions of Trover I've come to realize that what Trover has to offer isn't just great as an app, but as a community. Unlike apps like Instagram, which are more of a social sharing network, Trover is for travel photography much more specificially. Moreover, it's not just a sharing device, but a platform to find places to photograph. Whether you use it online, or as an smartphone app, travel photographers and wannabes alike gain a great deal from the really active community. Check it out, I promise, it'll become a bit of an addiction.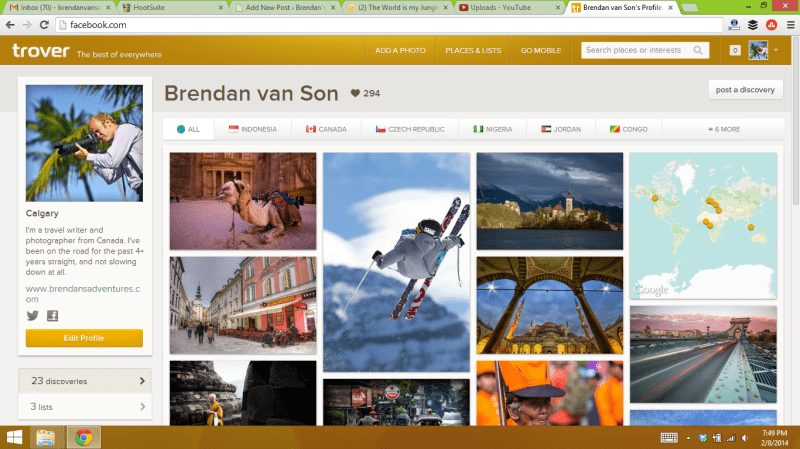 What is Trover?
On the surface, Trover is a photo sharing app. Users publish their travel photos into the system, identify where the image was shot, and add a description of the photo, and then it shows up in the home feeds of other photographers who follow them. But what really sets Trover apart from the other travel photography apps is that it's really geared to show you places around your current location. It urges you to explore the world around you, and that's the best part about it.
What makes it Special?
It's Moderated/Curated
Unlike some of the other photography apps out there that seem to swarm you with content, Trover is really careful to curate and moderate the best content so that cool images show up on the set of images nearby to your location. Rather than just a jumble of images, you can actually decipher interesting places. It's not just a bunch of shots of breakfast, it's actual travel photography.
Explore and Share the World Around you
In the app, it will find your location and then show a set of various user images starting from nearest to your location. As you scroll down, the images become farther and farther from where you are. As a travel photographer, it's really handy since you can arrive in a place you've never been before then browse around for interesting places to photograph. And, since it's all been curated, you'll actually find interesting subjects to shoot.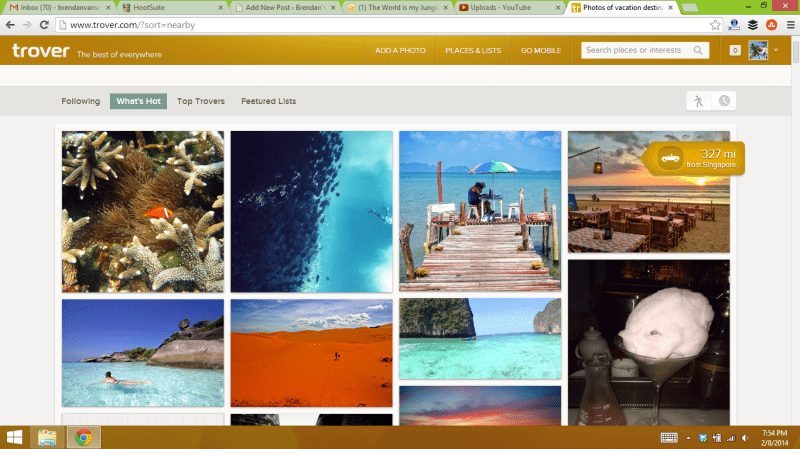 Explore the World Afar
Ok. So let's say your stuck in wanderlust. Or, perhaps you're planning a big trip. You might be curious to see what types of places you might discover on a trip to say "Petra". So, with the app, you can simple search "Petra" and be brought to a series of images from Petra. Just like when playing with the app exploring around where you're at, you can also scroll through images getting farther and farther from that location. It's a great way to check out some interesting sights, but moreover it's really fun to just scroll and discover places you've never heard of as well.
The Community
For me, the best part of Trover is the community. When people post their photos, they don't just toss them up and leave them there. Users really try to help other members of the community by describing where exactly they shot the image, what time of day they shot it, and some even go as far as dropping their camera info. People on Trover are incredibly engaged which makes it a lot of fun to browse. Thus far, Trover has managed to maintain itself as a space for sharing rather than just another app for people to self-promote, and I really hope it stays that way.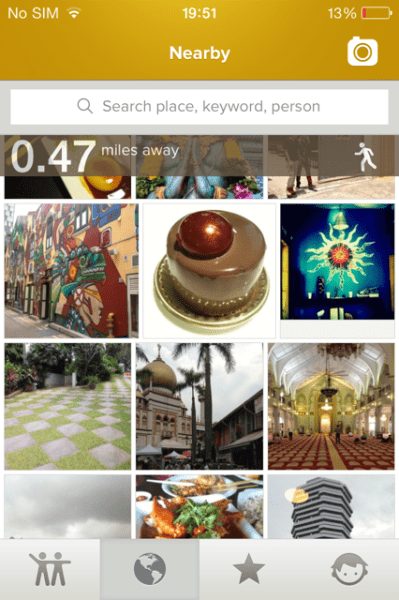 App or Online
As someone who doesn't really use their smartphone too much, I love the fact that, unlike instagram, I can add photos on my computer.  I can also browse through the app really easily on the web.  That being said, I've played with the app interface on smartphone devices and I think it's incredibly smooth as well.  However, with the availability of the app on my laptop, I have to admit that I spend most of my time browsing through it there.  But really, that's the beauty of this app, you can be on it anywhere.
Share-ability
The share-ability of Trover is much like most the other apps. You can connect tumblr, twitter, and your personal facebook page to Trover and posts can be funneled out to those branches of your social media as well. The one thing that I found to be a bit of an issue was that I can only post to my personal facebook and not my page. But I imagine that's probably on it's way soon.
Join the Party
If you're interested, you can head over to Trover.com and sign up!  If you're on iPhone/iPad head to the Apple Store for Trover.
Also, don't forget to follow me!  My Trover ID is Brendanvanson