In my opinion, there is no more immersive wildlife photography experience than one in Botswana. Especially when you cut deeper than the usual locations like Chobe National Park. If you can get deep into the wilds of Savuti, the Okavango Delta, and more, you'll find yourself surrounded by an inescapable wildlife photography experience.
I'm so excited to bring that adventure to a group of photographers ready to dive into this incredible place and find themselves cradled by a wilderness experience like no other on the planet.
This trip is wild.
But, there are breaks in the itinerary to recharge batteries, find comforts, and enjoy nature while a little more relaxed. This is an adventure trip, but with moments of calm and relaxation.
Dates: October 14-26, 2024 (dates for 2025 still not confirmed, but will also be October)
Price: €4,900 (deposit €900)
Style: Adventure
Activity Level: Minimal – But bumpy rides in safari vehicles.
Start/End Location: Livingston, Zambia or Victoria Falls, Zimbabwe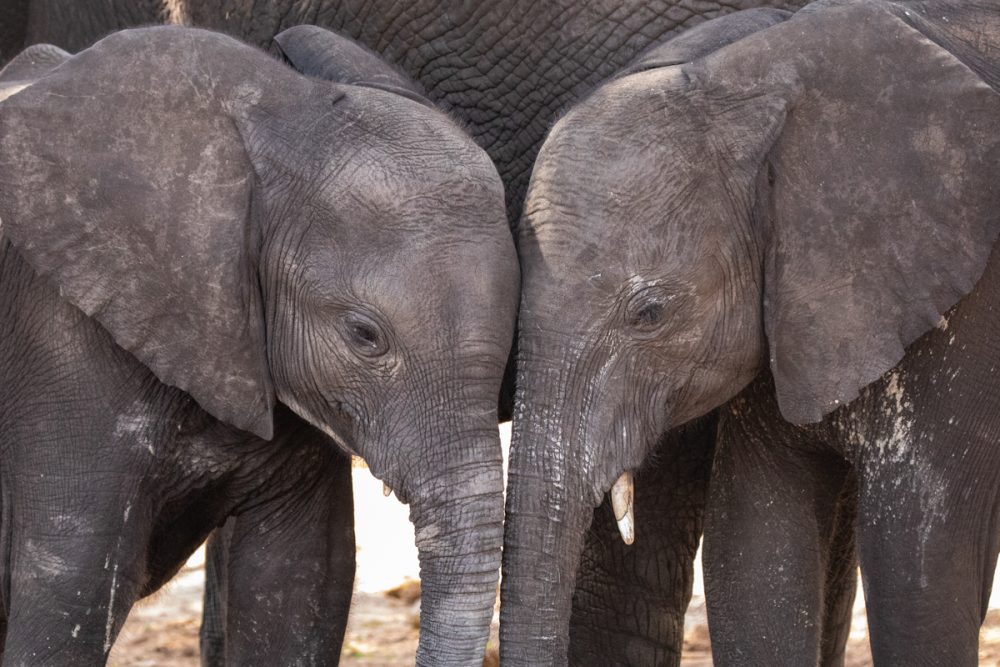 What is a Botswana Wildlife Photography Trip Like?
I think it's best for me to try to explain the idea of this trip.
If you look at a map of Botswana, you don't see a whole lot of roads. This isn't due to a lack of people, but a respect for the natural environment. The emphasis on protecting nature has made Botswana home to the largest population of African Elephants on the continent. It's also a safe haven for leopards, lions, rhinos, hippos, and more.
And while on the surface, the lack of roads in the country might seem like a deterrent to travel, for us it's an opportunity.
Our plan is to use safari vehicles to cross the country from Kasane to Maun. This journey will carve through some of the most beautifully wild landscapes in the world. We will be fully immersed in nature, camping (unfenced) within those very wilds. We will cross Chobe National Park, Savuti, and the Okavango Delta. Then, we will head to Naxi Pans and Elephant Sands.
Oh, and I almost forgot to mention that the trip starts and ends at the incredible Victoria Falls!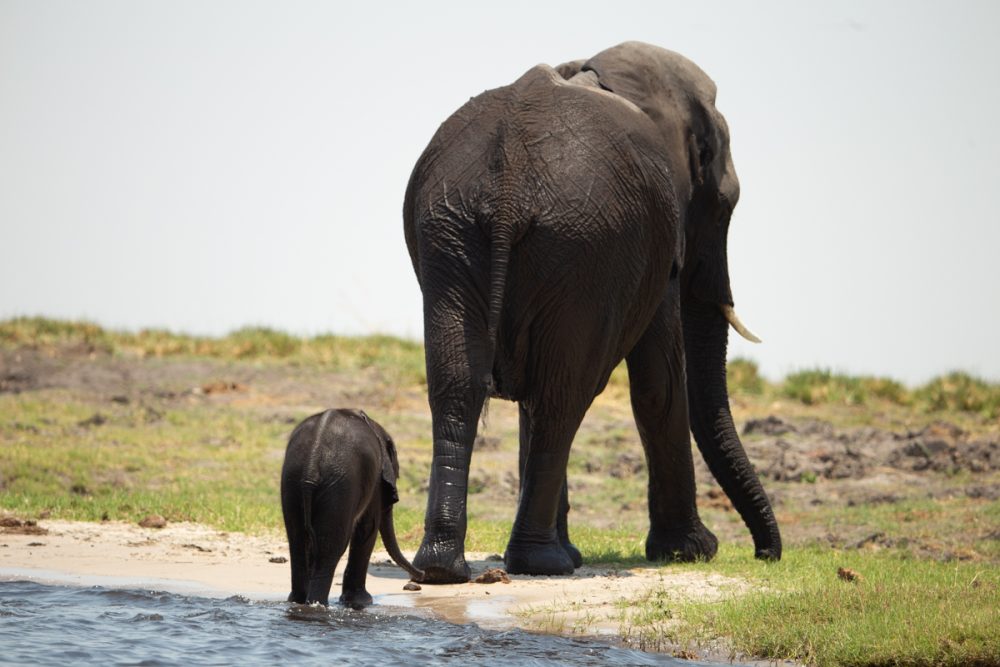 The Accommodation
There are always hang-ups when camping is involved. And, I'm not going to lie and say this is luxury camping, it's not.
However, on our camping nights we will have large walk-in safari tents and mattresses to sleep on. We will have a team of guides setting up tents for us. Moreover, they'll be doing all the cooking. And, of course, they will be guarding the camp from wild animals that might wander our way.
On this trip the accommodation is:
5 Nights Camping
2 Nights Safari Lodge
5 Nights Hotel
The Botswana Itinerary
Start Date: October 14th, 2024
End Date: October 26th, 2024
Day 1 – Participants will arrive into Victoria Falls Airport and be transfered to the hotel in Livingston, Zambia
Day 2 – We'll visit Victoria Falls for sunrise, then do a sunset cruise on the Zambezi River.
Day 3 – Early in the morning, we'll catch a transfer to Kasane and embark on a river safari. Then after lunch, we'll go on a land safari. This night, we'll be in hotels.
Day 4 – Today we embark on our epic overland crossing. We'll spend the day on safari and make camp in the wilds.
Day 5 – We'll continue through Savuti overland. Again, we'll camp tonight.
Day 6 – As a bit of a break, we'll keep our tents in the same place, and safari from our camp's base in Savuti.
Day 7 – We'll push on towards the Okavango Delta and stay at the beautiful Mogotlho Safari Lodge.
Day 8 – After a relaxing night, we'll explore more of the Okavango Delta before arriving in the town of Maun for a hotel stay.
Day 9 – After a nice night in town, we'll go back into the wilds. This time, we'll be exploring the incredible Naxi Pans region. We'll try some astrophotograph at night.
Day 10 – Out on the flats for a second day!
Day 11 – We'll make our way to the majestic Elephant Sands Lodge
Day 12 – Leaving Elephant Sands, we'll again cross into Zambia and spend the night in Livingstone.
Day 13 – Tour ends after breakfast.
Cost and What's Included?
What's Included:
On the ground transport on tour dates
National Park Entrance Fees
Accommodation during tour
Transfer from Victoria Falls to Livingston (if needed)
Photography instruction by Brendan van Son and Assistant
Airport transfers on tour dates
Breakfast on all tour dates
All meals while on safari days
What's Not Included
Flights to/from either Livingstone or Victoria Falls
Necessary Visas
Lunch and Dinner on non-safari days
Photography Gear
Single Supplement?
This trip price is based on double occupancy. So, if you're travelling solo, you'll be matched with a roommate of the same gender. If you wish to have your own private accommodation at the hotels, you can purchase a single supplement. The single supplement for this trip is still to be determined.
Single supplements can be guaranteed. Enquire for more info on pricing.
Book Here
To join us in Botswana, please book your deposit below. Final payments for the trip will be due 120 days before the start date of this trip.
**NOTE: The 2024 trip to Botswana is sold out. If you'd like to join the waiting list or the 2025 trip, please send an email to brendanvanson at gmail dot com.**
This trip will happen again in 2025. If you would like to join that tour, or join the waiting list for this trip, please email me at brendanvanson at gmail dot com.
You can see the terms and conditions of payment here.
Photos of Botswana
I've been visiting Botswana for 15 years. Much of my time has been spent in Chobe National Park. Thus, most of my imagery comes from there. However, the image potential for the whole country is just off the charts.
Can't Join This One?
If you can't join this photo trip but would like to join a future one, please sign up to the form below to receive information on upcoming trips.