Travel for Bragging Rights
I sat in the hostel toilet stall doing my usual reading of the notes graciously left behind by the wise folks who had been there before me.
"Smile," the pencil written words in front of my face stated as I wondered of who still writes in pencil, let alone takes one into the bathroom stall with them, "you are taking a poo at the southernmost city in the world."
I walked into my hostel room where 4 people sit scattered on bunk beds each holding desperately to their laptops and iPhones.  It becomes quite clear to me that they are entranced so I don't disturb their peace and grab my pen and notebook and head for my bed.  As I overhear the conversations of those chatting to friends and family, not one of them describes the beautiful mountains that collapse into the cold waters of the Beagle Channel.  Not one of them lends a word to spotted snow capped islands that line themselves with an amazing variety of wildlife either.  Instead, they seem engrossed en relaying to their friends that they are in the southernmost city in the world, some don't even mention the city's name: Ushuaia.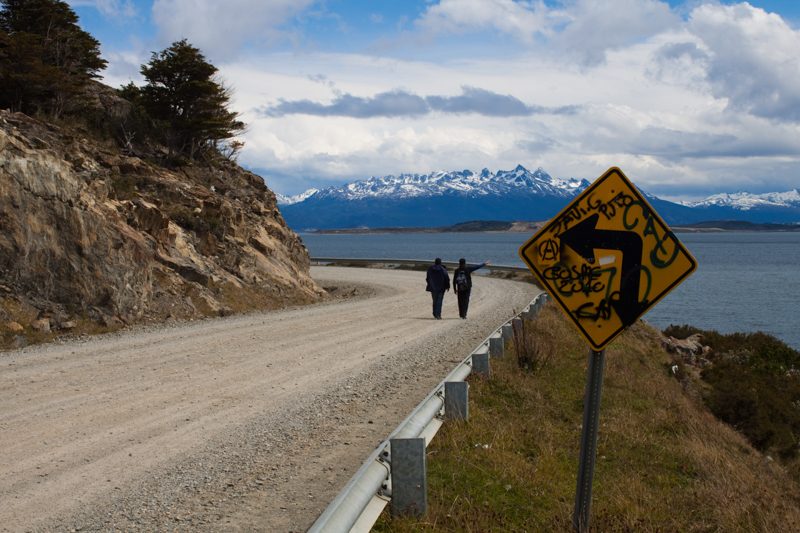 It really is something that hadn't occurred to me, travel for bragging rights. I never once thought, well, I'm going to go to the highest capital city in the world (which I've been to), the highest navigable lake (been there too) or the southernmost city in the world (been here as well). That is not my reason for visiting a destination. When I was in Canada I never ever thought of going to the northernmost city.
"I'll bet its bloody cold up there right now," I think to myself as the chatter between travelers and home bodies continues.  I have always had Ushuaia in my travel plans, but only as a hope that I would be able to get to go to Antarctica, but never did it occur to me to travel here for a boy scout's badge.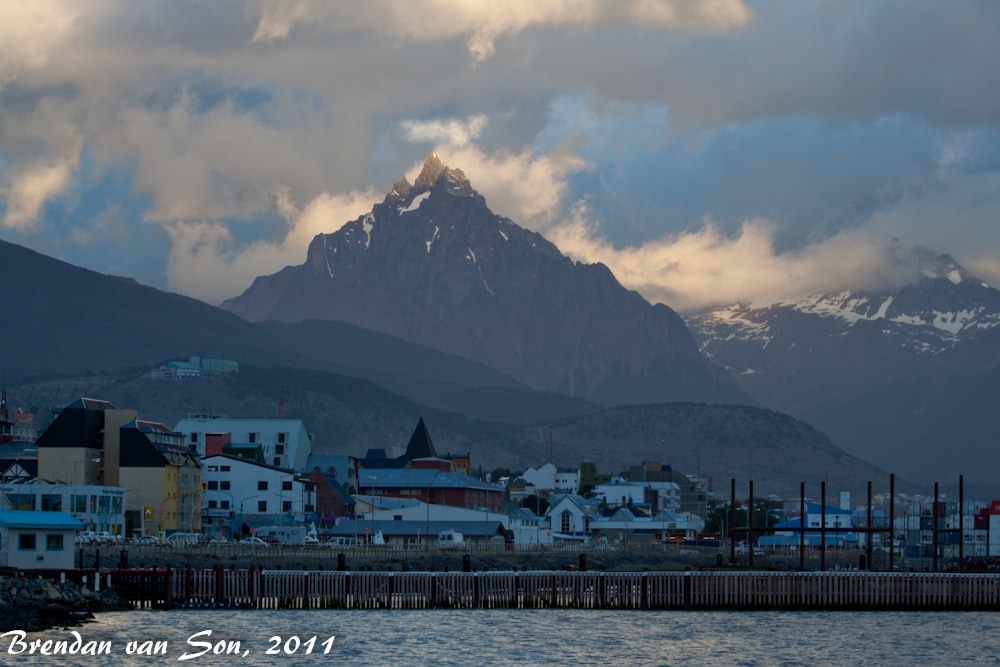 Having spent nearly two weeks here now I realize that there's more to this place than the ships that leave to Antarctica each day, the high prices, and the southernmost Irish pub in the world (where I'm proud to say they all know me by name and taste).  The area of Ushuaia is home to some very stunning landscapes.  Just outside of town lay large fjords that spot the treed mountain landscape.  The cold coastal waters lead into beaches coated with smooth rocks waiting to be skipped to their homes.  The rich islands that dot the Beagle Channel are home to a wealth of life from sea lions, to large birds, to the tuxedo wearing penguins that always have visitors smiling.
Travel for whatever reason you may have, even if it is for bragging rights. But in the end, make the best of travel. Take in the destination for its real character and not its position in the record books. Enjoy the view, take in the air through your nose and exhale it with force out of your mouth, and smile at passer-byers. It doesn't matter if you're in the southernmost city of the world or your hometown, you'll grow and gain from your experience.
"I really hope Port Williams, Chile becomes a city," I think as I crawl out of my lower dorm bed and head out of the room, "that way they'll have to come all the way back to visit the new southernmost city in the world."