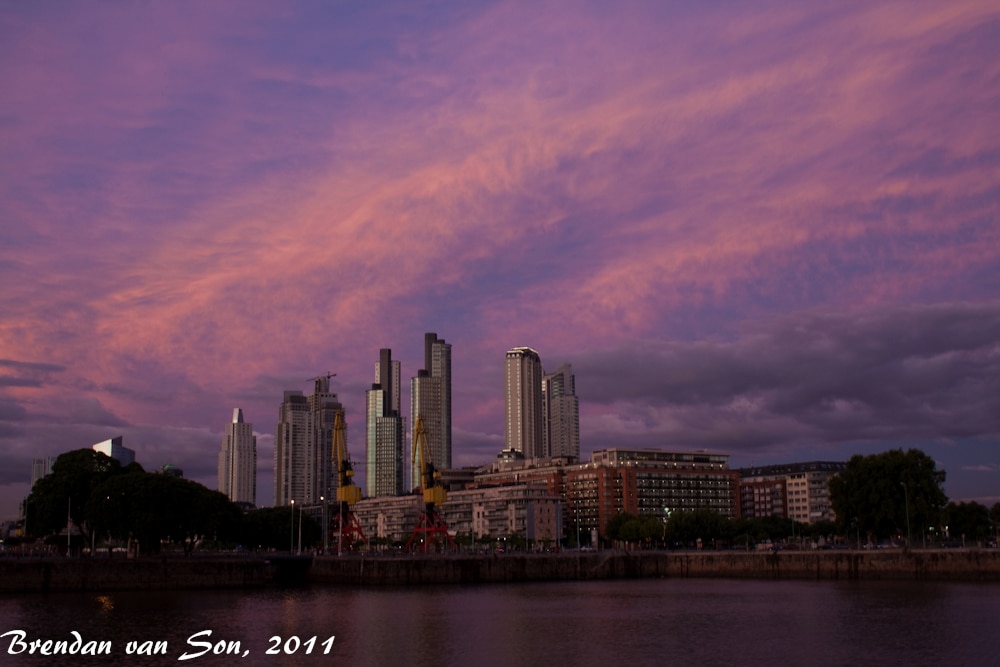 Argentina is one of those countries that accommodates all types of travellers. Whether you are a backpacker travelling on a very low budget or a luxury traveller looking to indulge in the "finer things in life" there is a hotel, restaurant and mode of transportation to suit your desires. It should be of note, however, that the prices in Argentina are changing quite drastically at the moment as the country is again struggling with issues of inflation. You'll notice too that in Argentina the prices rise the farther south you travel. You'll find that the prices are inflated in Southern Patagonia. This isn't as much of a tourist grab as many people believe, rather it simply costs more to live in more isolated, colder locations. This list of prices does not contain hard figures, instead it is meant as a guide.
Accommodation
The type of accommodation available in Argentina is diverse. There are plenty of options available for the budget travellers including hostels and a small number of guesthouses. For the higher end travellers there are 4 and 5 star hotels in nearly every destination worth visiting. Travellers looking to have a more traditional experience will enjoy the opportunity to stay out of town in one of the campos.
Hotels
I've learned that no matter where you go in the world hotel prices are almost always the same. In Buenos Aires a 5 star hotel like PuroBaires will cost about 300US$ a night whereas for a nice 3 star hotel like the Duque Hotel you're looking at about 130US$ a night. There are cheaper hotel options as well, Hotel Mundial is a decent hotel that offers rooms for around 60US$ a night. The prices vary in other parts of the country. For a room in the nice 3 star Babilonia Hostel in Cordoba you're likely to spend around 40US$ a night.
Hostels
It seems like there is a hostel on every block in Argentina, and there are a number of hostel chains. The price of hostels is quite diverse, but you really do pay for what you get. The average hostel in Buenos Aires will cost between 12 and 20 US$ for a dorm bed, with a number of options for private rooms at about 25-30US$ a night. In Patagonia you'll find these prices to be about 15% higher in the high season. Note though that in the winter, hostels in Southern Patagonia can be dirt cheap.
Ranches
Increasingly, staying at a ranch in Argentina is becoming quite popular. The range of prices to stay at one of the ranches is quite wild. There are ranches that provide meals and a range of excursions, with a luxury feel, for as much as 200US$ a day. However, there are a number of cheap options as well. One can stay at a ranch for as little as about 30US$ a day.
Food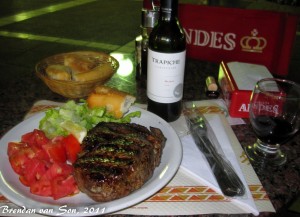 Restaurants
All you can eat parrilla (barbeque): Between 10US$ and 2oUS$
Fancy meal at a high class restaurant: Between 20US$ and 40US$
Typical meal at a budget restaurant: Between 5US$ and 15US$
A bottle of beer: 2.50US$
A bottle of wine: Between 15US$ and 40US$
Grocery Stores
Bife de Chorizo: 4-8 US$
6 pack of Quilmes: 5US$
Bottle of Wine: Low end = 5-8US$. High end = 20 – 30US$
Loaf of Bread: 0.50US$
Transportation
Bus: About 6US$ and hour. The price, for example from Buenos Aires to Puerto Iguazu (19hrs) is between 413 and 471 pesos (about 100-120US$). The bus from Buenos Aires to Bariloche (21hrs) is between 500 and 600 pesos (130 and 150US$) depending on class.
Plane: If you book flights well in advance you can often find them to be cheaper than the buses, especially in Patagonia. The bus journey from Bariloche to El Calafate, for example is about 200US$ whereas flights can be purchased for about 100-150US$ if bought well in advance.
Taxi: There are actually two types of taxis in Argentina: remises and taxis. Basically, a remis is much more private an exclusive. In general, taxis are cheaper, but that isn't the case across the country. Some taxis use meters others negotiate the price. My basic rule in Argentina was that a taxi cost about 2 pesos (50cents) per minute. Thus, a 10 minute taxi ride would cost about 20 pesos (5US$). A remis in Buenos Aires will cost almost double that.
Metro: The metro in Buenos Aires is the best way to get around. The cost of a one way ticket is 0.70 cents of a peso (about 0.20 cents us).
Drinking and Entertainment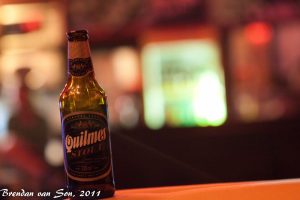 Entry to a club: Between 15 and 40 pesos (4US$ to 10US$)
700ml Beer at a street side drinking spot: Between 10-15 pesos (2-3US$)
A hi-ball cocktail at a club: Between 15-30 pesos (4-7US$)
A tango show with a meal: Between 60-150US$
Tourist Activities
Rafting in Bariloche: 30-50US$
Winery tour in Mendoza: 20-30US$
City Tour of Buenos Aires: 10-15US$
Tour to Perito Moreno Glacier: Bus transfer only = 17-20US$. Guided tour = about 40US$. Tour including glacier hike and boat cruise = about 125US$ (note there is also a 20US$ fee to the National Park).
Day boat tour of the Beagle Channel: Between 25-40US$