Could there be anything more fun than photographing monkeys?
They just have so much life in their eyes and attitude in the emotions they exude.  Maybe it's the curiosity that they seem to evoke that inspires me, but whenever I hear that there will be monkeys somewhere I get excited.
Nicaragua is home to Spider monkeys, white-faced Capuchin monkeys and the eerie Howler monkeys.  The monkey featured, the Spider monkey, is by far my favourite of the clan.  They are just so laid back and cool, and they are also very friendly.  Getting with photography range of a Spider monkey is never too challenging, and they always offer great reactions like this one.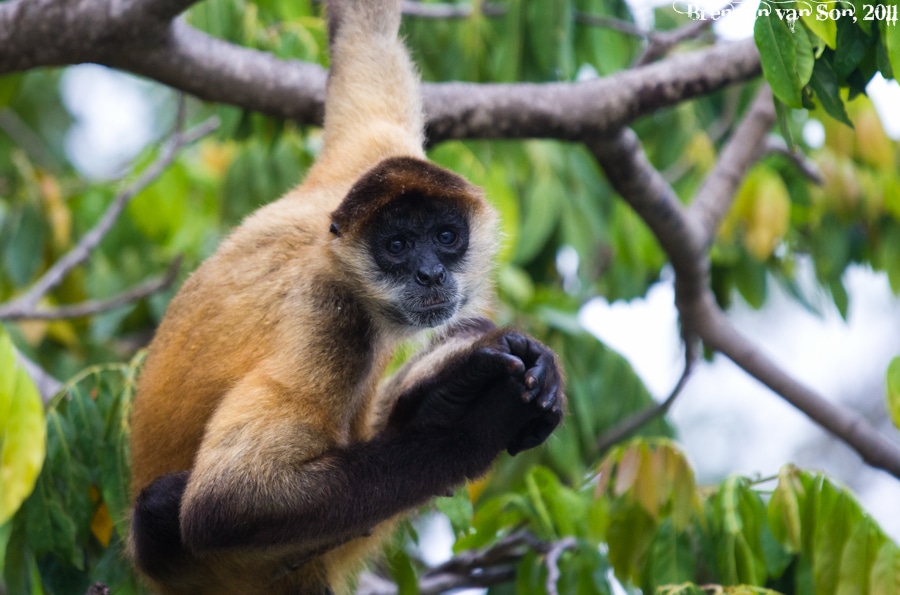 How I Got this Spider Monkey Photo
I actually took this image from a moving boat.
It was a challenge to shoot a sharp image to begin with, but I also had to deal with very low light due to the shade and the evening light.  I hate turning up the ISO, especially on animals since it can place a lot of noise right in their eyes, but I really had no choice if I wanted a sharp image.
What I did to make sure I got some sharp images was two things.  First I cranked up the ISO to 800 which is definitely at my limit.  Secondly I set my camera up to shoot on continuous shot, that way I could just hold the button down and not create any shake (and if I shot a bunch of images one was bound to be sharp).  Finally, I had my camera on a monopod which I pinned against my knee as I sat on the boat to give even more stability to the image.  The rest is simple, focus on the eyes of the animal and fire away.
For the photographers I shot this image on a 70-200mm f/4 on a Canon 60d.  Aperture was set at f/4, shutter speed at 1/125, focal length at 200 and, as I mentioned, ISO 800.