I ended up on an assignment for Visit Britain in Scotland over the holidays and I had some landscape photography locations on my mind.  One of the places I've been seeing pop up online a little bit these days is a spot along the north coast of Scotland called Bow Fiddle Rock.
So, as soon as I landed in Inverness, and got sorted in my rental car, I made the drive out to the town of Portknockie where Bow Fiddle Rock is located.
Below, there's a video from the day.  And under that there's some more information on this location.  I am in the process of putting together a complete guide to Scotland photography locations, too.  Stay tuned for that.

Getting to Bow Fiddle Rock
Bow Fiddle Rock is basically right between Inverness and Aberdeen on the northeast coast of Scotland.  You could base yourself in either city and get to the location.  It's about a 90 minute drive from either.  You'll be driving to the town of Portknockie.
Once you get to Portknockie, drive straight north to the coast and then turn right.  A road will eventually lead down to the coast, a small parking area, and some trails.  From there, it's only a 2-3 minute walk to Bow Fiddle Rock.
Parking at Bow Fiddle Rock
The parking area at Bow Fiddle Rock is fairly small.  I'd say there's room for about 4 cars.  But, if the parking lot is full you can drive up to the main road and there's plenty of place to park.  You'll never have to walk far.
When to Photograph Bow Fiddle Rock?
I was told repeatedly by locals that the best time to photograph Bow Fiddle Rock was at low tide.  At low tide, the rocks are exposed and there's a whole lot more foreground to work with.
However, I really didn't have any options since I was in Inverness only for a night and really had limited time.  So, it was just chance that I arrived at high tide.
As a result, I had the location to myself.
However, I really think that high tide worked.  It simplified the picture.  It meant that there were fewer distracting elements.  I think I preferred my high tide images to the low tide images I've seen.
Regarding sunrise vs. sunset?  I don't think it matters either way.  It would work for either.
My 3 Images and How I Made Them
When you're on assignment as a photographer, it's not enough to just make 1 image.  You really have to go out with them mentality of shooting 2 or 3 photos.  In the end, I walked away from Bow Fiddle Rock with 3 photos.  This is how I made them.
Socially Minimal
I get asked all the time why I photograph things so often portrait orientation. The reason I do it is because media is so often consumed vertically. Social media, especially, is consumed vertically because of the orientation of phones.  So, I shoot a lot of my photography to match that.  Back in the day, when magazines were the main source of media consumption the pages, of course, were portrait orientation.  I would shoot vertically back then too.
Other than the orientation, this photo is fairly simple.  I took the photo on my Canon 24-70mm f/2.8 lens.  I didn't use a filter at all. I went with a slightly slow exposure to keep some mood in the water without going too slow and losing the drama. The settings were f/16, 0.8 seconds, ISO 100, at 24mm.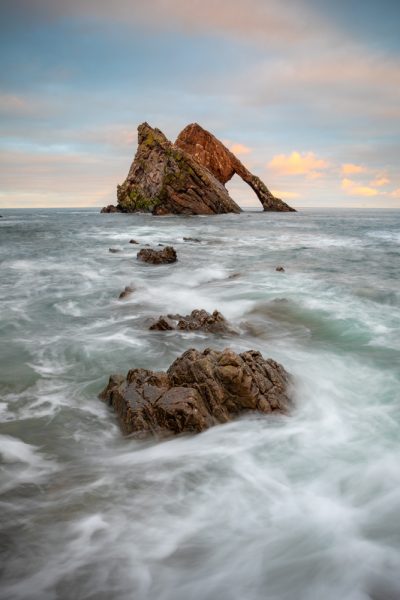 A Step to the Left
Of course, not all media is consumed vertically. So, I wanted to make an image that was also landscape orientation.  But, if I would have just flipped my Canon 5d to the side, I would have had a terribly composed image.  So, I took a step left and dropped my tripod down about a foot.  It kept Bow Fiddle Rock at the rule of thirds, and the bottom rock worked well as an anchor.
Sometimes, you just need to move a foot.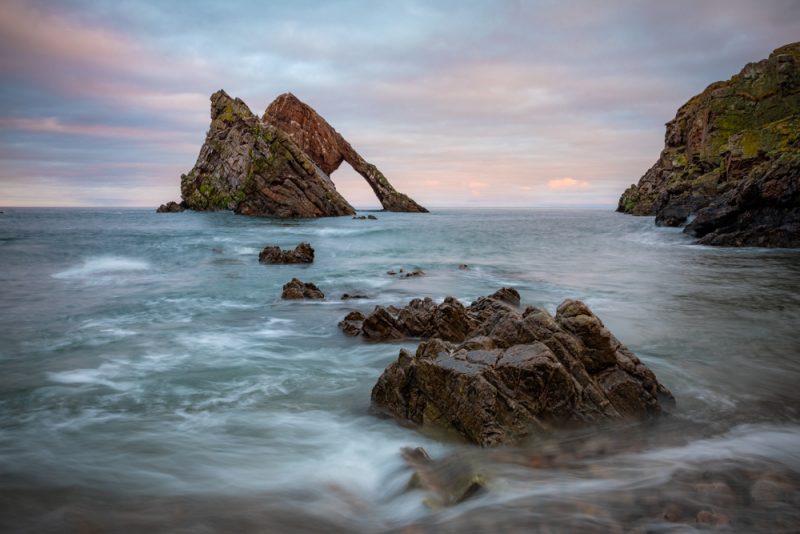 Top Down
I honestly thought I was done at Bow Fiddle Rock after the first two photographs. But, as I was walking out, I realized that I should probably do a wider version from above.
With the sea fairly calm, I thought I'd use a really long exposure to soften the seas and make it look calmer. But, I also wanted to put some drama in the sky.  So, I used a 6 stop ND filter and a 4-stop medium grad filter.
In the end, my settings were f/16, 60 seconds, ISO100, at 24mm.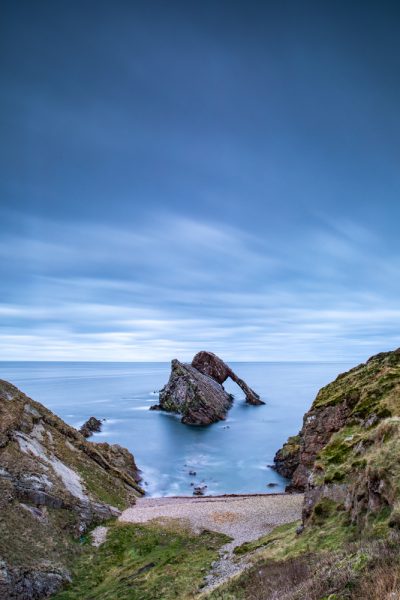 What's Next in Scotland?
After my first night in Inverness, I had a morning in the area for photography before heading to Glen Coe.  So, in the next blog I'm going to share the other location I found in Inverness and the rest of the spots I found. I had a pretty epic day of photography.  Look for a couple images from that day.
Also, there's an announcement coming regarding a photography workshop soon.