This week, I got my hands on a copy of the latest version of Photoshop Elements: PS13 which released on September 24th. As you might now, I started out editing photos exclusively with Elements. As such, I'm always excited when I get my hands on the latest copy. And, like last year when Photoshop Elements 12 came out, I've got a bit of a giveaway on the site!
I'll be giving away 3 copies of Photoshop Elements 13 / Photoshop Premiere Elements 13 (the video editing software)!
Check below the article for details. But first, a review!
What's New in Photoshop Elements 13?
If you managed to check out my article on choosing the right photo editing software for you, then you already know that I think that the two types of people who really benefit from the Elements line are those who 1) want a guided edit, and 2) who like creating photo projects. The new version of the program extends directly to that part of the market, adding some new tools to make it a little bit easier to be creative and create fun photography projects.
New in the Organizer
eLive: Well the organizer has always been ground zero for creating photo projects, in Photoshop Elements 13 it's now also a learning tool. The eLive stream in the organizer will list great photography blog articles geared at helping you improve your craft, or perhaps just inspire you a little bit.
Slideshow Builder: The updated slideshow builder is designed to make the creation of a slideshow incredibly easy. It works with you to help develop a story to your slideshow. There are downloadable themes, you can add music into them, and then you can export the videos directly to facebook!
New in the Editor
Now, I don't spend much time in the organizer myself, since I never have time to build photo projects these days. So, for me, the fun really starts over in the editor. Also, if you like the eLive feature over in the organizer, you'll also find it here in the editor.
Quick effects: Essentially, these are quick photo filters, and they were a part of the last version too. But, now, you have more. So each category has 4 new add-ons, meaning you essentially have 50 quick efexes now.
Crop Suggestions: I love this. Using the prevalent photography rules of composition, the crop tool gives users suggestions to their crops to make the image more powerful. For beginners, this is a great tool to have.
Three New Black and White Guided Edits:

Simple B&W: Over in the guided section of the Photoshop Elements 13 editor, you've now got 3 new black and white edits. The first, is the simple version.
B&W Selection: If you want to make a single item in your photo colour, well everything else is Black and White, the guided edit will run you through this really quickly. I know this is an edit I always get asked about, so I'm sure it'll be popular.
B&W Color Pop: Rather than selecting an item, this version selects a certain colour to keep well everything else goes Black and White. Again, I think this will be very popular.

Photomerge Compose: Over in the expert editor, there's now a tool that will help you take something, or someone, from one photo and put it in the other. For example, if uncle Joe misses a family reunion, you can take an old photo of him and put him in the family photo. I'm impressed how easily it's done.
Facebook: Everyone's crazy about facebook, right. There's a new tool that helps you create a facebook profile that combines the banner and the profile photo. Although it's not a tool I'd be using, I think it'll be popular.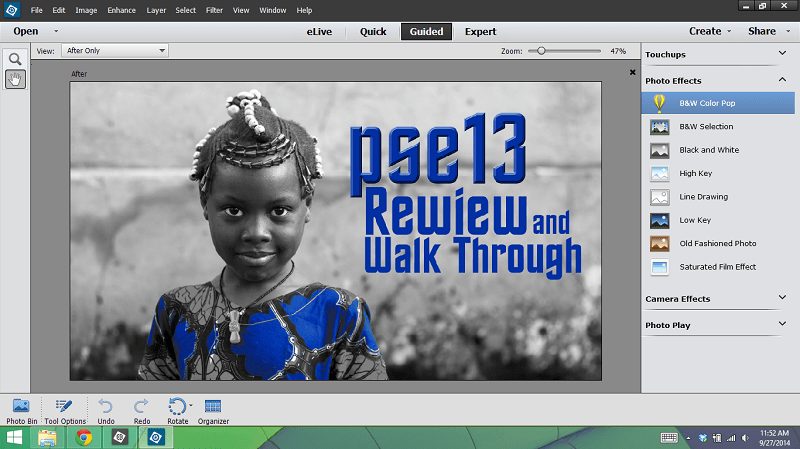 In Sum…
For me, what I've always loved about Photoshop Elements is that it opens up so many creative streams for photographers who may need a guiding hand to bring their ideas to fruition. The latest version of Elements builds on that ability furthering what the product can aid the photographer accomplish in bringing their ideas to life. It's continues to be a great product.
Win a Copy of Photoshop Elements 13
Now, the fun part. You've decided you want to up your photo editing skills, now's your chance.
I'll be giving away three copies of a combined version of Photoshop Elements 13 and Photoshop Elements Premiere 13.
The way this works is essentially a raffle. You earn tickets into the raffle by completing certain tasks which are described in the widget below. Good luck!
Want Tutorials?
Be sure to Subscribe to my Travel Photography Channel on YouTube for near daily tutorials, on location shooting, and lots of tricks and tips to photo editing.
Also, be sure to follow along with Photoshop Elements on Facebook as there are loads of great tips and tutorials being passed through their stream on a daily basis.