I'm not bashful in saying that Singapore is my favourite city in southeast Asia. I love the blending of cultures, the innovations, and the fact that it's so photogenic. Although, I'll be honest, I could do without the intense humidity.
Singapore has a whole host of awesome photo spots and I'm going to try to guide you through some of my favourites in the city.
The Photo Locations
I should note that in the below list of the best photography locations in Singapore, I'm indicating the place where the photo was taken, and not the subject. Many times one of Singapore's icons will show up in multiple photo spots.
Gardens by the Bay
I didn't include the Marina Sands Hotel on this list of photo locations in Singapore because it's featured in so many other locations. Moreover, if you want to go up to the swimming pool at the Sands – which is where the best photo spot is – you have to be staying at the hotel.
Instead, I've included spots like Gardens by the Bay.
The Gardens by the Bay is one of my favourite places to visit in Singapore in general. Not only are there awesome photos of the nightly light show, but there are some really cool indoor gardens worth exploring.
At the gardens, there are two locations in particular that I like to take photos from. The first is from a little bit behind the giant light trees. You get an interesting perspective with the Marina Sands Hotel in the frame from here.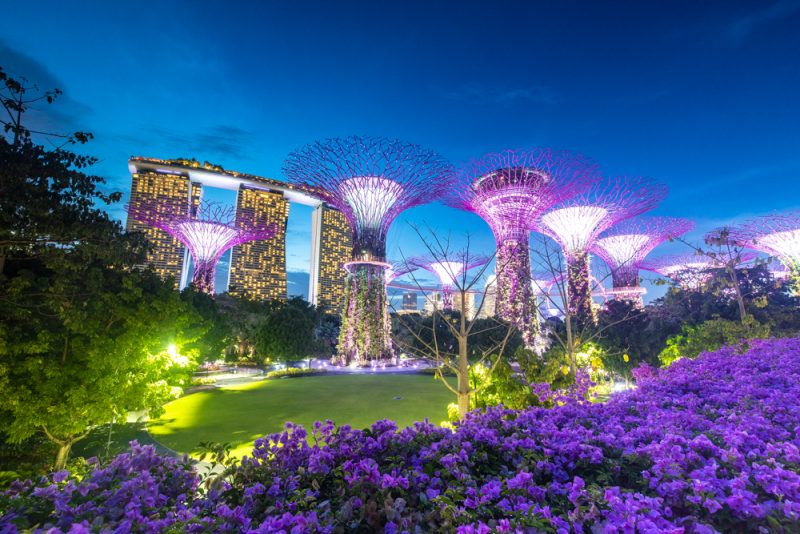 The second is from right in the boardwalk. Again, it's a fun perspective to take photos from.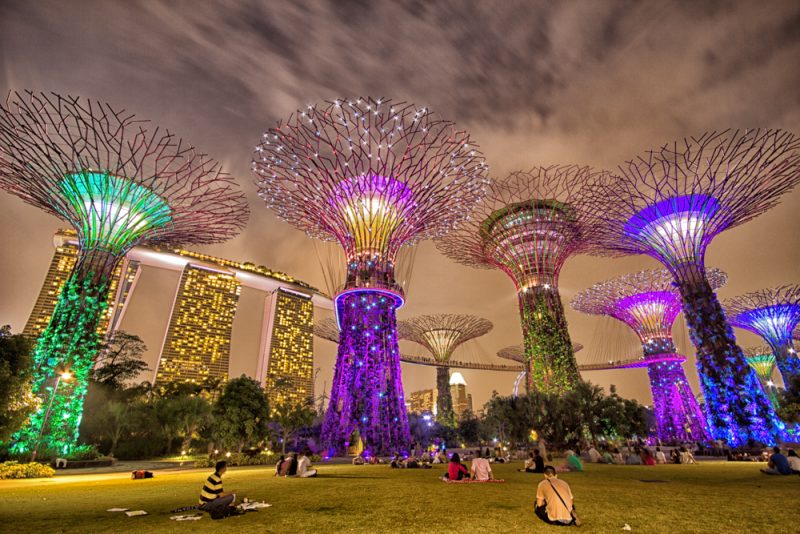 Helix Bridge
If you're looking for an iconic photo of the Marina Sands Hotel, this is probably the best place to do it.
The hotel is a major feature in this image, but the Helix bridge makes a really nice leading line towards the hotel and the Art Science museum nearby.
I'd highly recommend coming here for sunset and into the dusk. The colours here can be beautiful, especially as everything in the city lights up for night.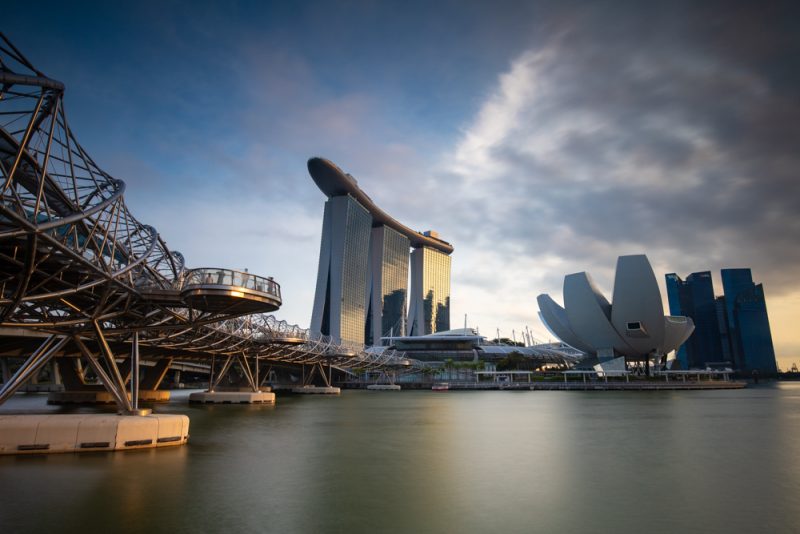 Jubilee Bridge
You'll notice that a lot of my photo locations in Singapore are bridges. This is due to the fact that much of the city is packed in with buildings. The bridges are great places to find openings to stand and find photos. Jubilee Bridge is another one of those bridges that make a great photo location in Singapore.
In fact, if you're looking for an iconic photograph of the skyline of Singapore, this is the spot.
Again, I'd highly recommend coming here at sunset and dusk – although sunrise and dawn also work. At dusk, the city's skyline lights up and the contrast of colours is beautiful.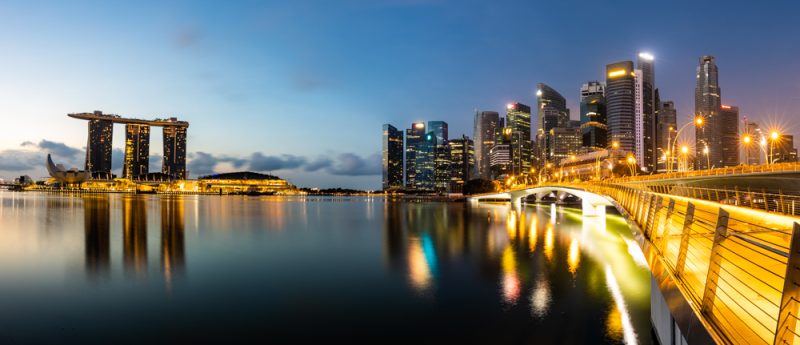 Elgin Bridge
I really like the perspective of the city from Elgin Bridge. Here you can show off how impressive the city is. I love how Singapore has these narrow little canals lined with parks and massive skyscrapers. I love how it all comes together in a photo.
You'll definitely need a wide angle lens for this spot. As for the bending perspective of the buildings, I would honestly not worry about it. Lean into it. It shows how tall these buildings really are.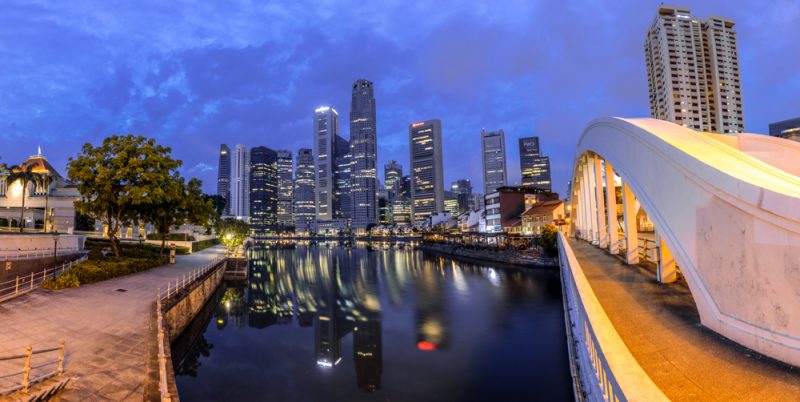 Bugis Market
You definitely can't dismiss the idea of street photography in Singapore. And while I left out Chinatown and Little India from this post, those locations are also really good.
For markets, head to Bugis Market.
It's an indoor market – which is a nice reprieve from the humidity and heat of the city – and it's a great place for photographs of the people of Singapore.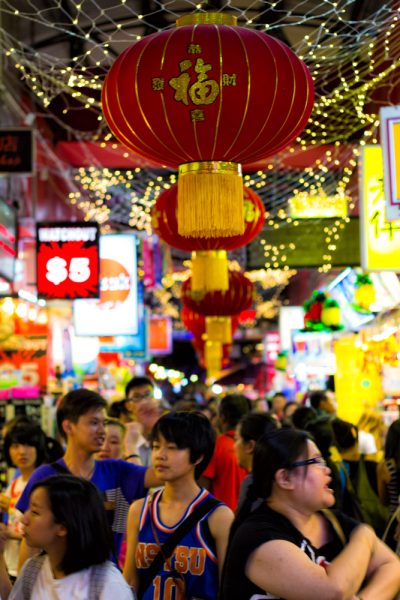 Logistics of a Photography Trip to Singapore
Best Time of Year to Visit Singapore
Singapore is always hot and it's always humid. No matter what time of year you're travelling to Singapore you'll have to deal with that.
I would recommend trying to avoid the monsoons. Although during monsoon season you can sometimes get the most incredible images, you can also often get rained out of your photography days.
There are two annual monsoon seasons in Singapore. The northern monsoon is December to the end of February. The southern monsoon hits from June to September.
How Much Time do I Need in Singapore?
There is so much to do and photograph in the city, that I would recommend spending at least 4 full days here. You could easily stay a week without getting bored. There are so many other photography locations in Singapore that I haven't included in this list.
But, I'd say the ideal is 4 full days.
Where to Stay in Singapore
I'd recommend staying close to Clarke Quay if you can afford to be downtown. Here, you'll be very central to all the photo spots in Singapore. Personally, I stayed at The M Social hotel on my various visits. I love the location and the hotel is really cool. I mean, they even had a robot egg maker!
If you're budget is a bit tighter, you can also stay a little out of the city. Little India is a nice area to stay and there are metro connections to the city.