Namibia is full of photo opportunities. In fact, I've written a massive guide about photographing the entire country. The opportunities are just endless. I've been to Sossusvlei almost 10 times on various photo trips – from photo workshops to personal adventures. Each time I find new photos. Each time I'm more awe-struck by the beauty of this place.
So, I wanted to write a bit of a guide to Sossusvlei. A guide focused entirely on photography. I hope it helps you get the best images possible.
Where to Stay
Normally I would place the "where to stay" section at the end of an article. But, for photographers this is actually the most important thing.
You see, Sossusvlei has 2 gates.
The first gate – let's call it the outside gate – opens almost exactly at sunrise and sunset. So, if you're a photographer, you can't really be at your photo locations for the best light.
The second gate – only about 100 meters down the road – opens an hour before sunrise.
As photographers, you really need to be inside the first gate. The only way you can do that is by staying with the NWR (the national parks) at one of their two locations inside the first gate. Those locations are Sossus Dune Lodge and the Sesriem Campsite. Both of those places are at the village of Sesriem. There's nowhere closer to the photo locations, sadly.
You'll have to book those places directly with the NWR.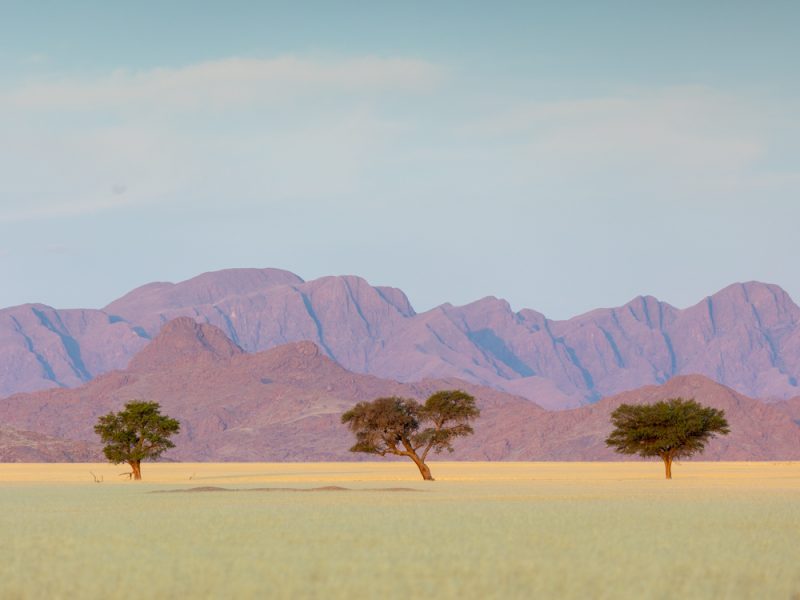 The Best Photo Locations in Sossusvlei
Inside the region of Sossusvlei there are countless photo locations. In fact, it feels like basically everything in the park is photogenic. The park is just covered in the perfect colours of orange and blue. It's a perfect palette.
I'm going to try to focus this guide to the best locations.
Deadvlei
This is the place that made me want to visit Namibia in the first place. Deadvlei is awesome. And as cool as Deadvlei looks as a place with the eyes, it seems to only get better as soon as you put your lens on it.
Getting to Deadvlei is a bit tricky, and you either need a 4×4 or to deal with the NWR service.
To get to Deadvlei, you need to drive to the end of the pavement in Sossusvlei. Once you do, the road turns to a sand road. And it's not just any sand road, this is a soft deep bit of sand. In fact, you're basically just driving through a sand dune. Don't attempt this without a 4×4.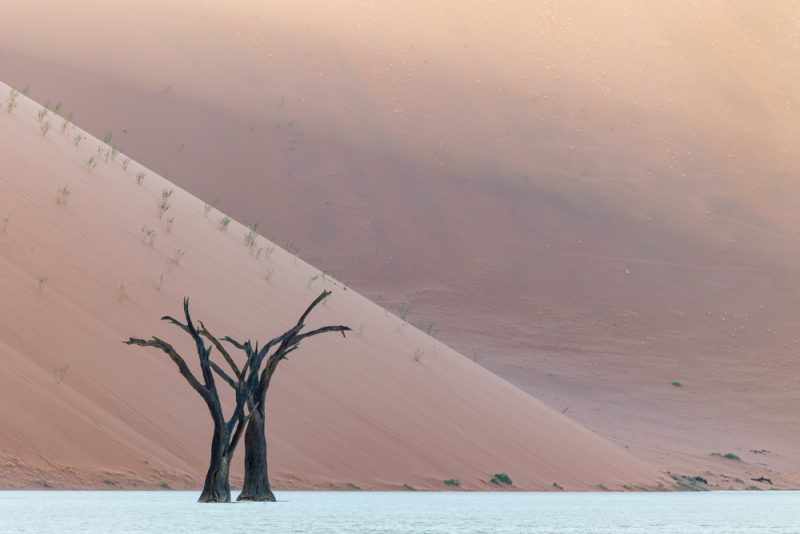 You can get here with the NWR who offer a service from the end of the pavement to the start of the trail to the dunes. However, that service only operates in the mornings. They stop the service at 3pm.
With your 4×4, you'll eventually get to the Deadvlei parking lot. From there, it's about a 1 mile hike across the sand dunes to get to Deadvlei itself. It's not a hard trail to follow. There are markers the whole way. However, don't stray from the trail.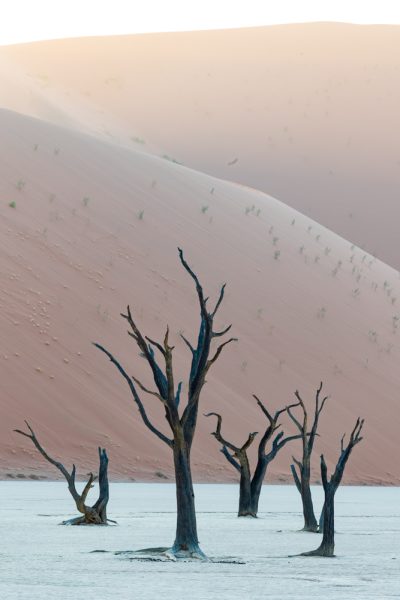 At Deadvlei, you're free to explore.
I will mention something important: don't touch the trees. These trees are relics and they're vulnerable. Don't touch the trees at Deadvlei, please.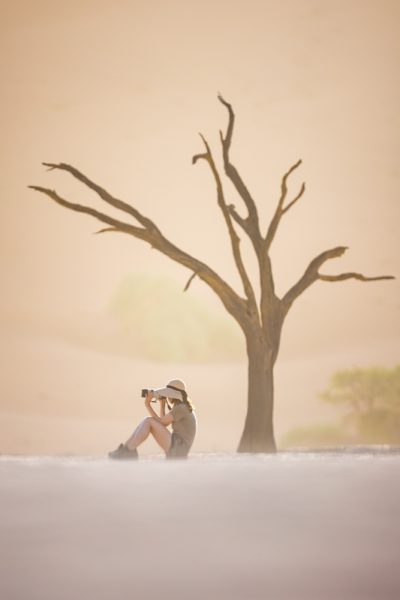 Dune 45
This is definitely the most famous dune in Sossusvlei.
However, Dune 45 isn't the most famous dune – in my opinion – because it's the most beautiful. It's the most famous because it's the closest to the road and the easiest to access to climb.
The parking lot in front of Dune 45 makes it a bit annoying to photograph. So, usually, I don't come here for photography. However, when there are hikers on the dune itself they can make some really great photos. The lines of the dunes are fantastic.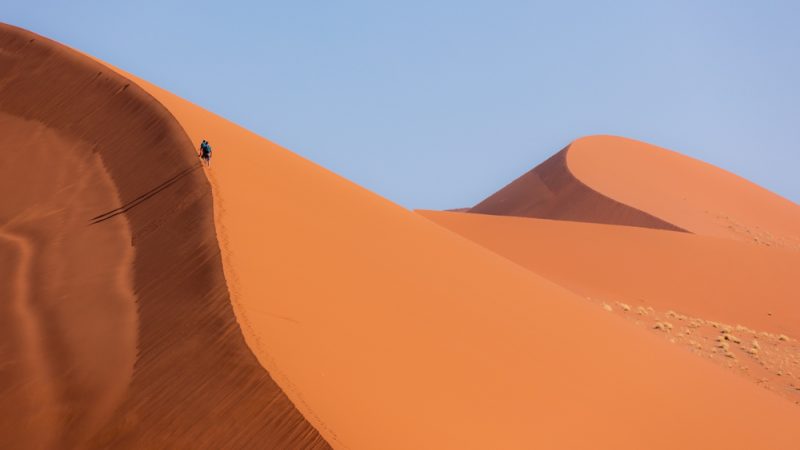 Dune 39
While Dune 45 might be the most famous, I think Dune 39 is the most photogenic.
You'll quickly find out that in Sossusvlei the dunes are all numbered. You'll see numbers along the side of the road letting you know which is which. Obviously, Dune 39 is 6 dunes down the road towards the park gate from Dune 45.
In my opinion, the best way to photograph this dune is from way back alongside the road with a long lens.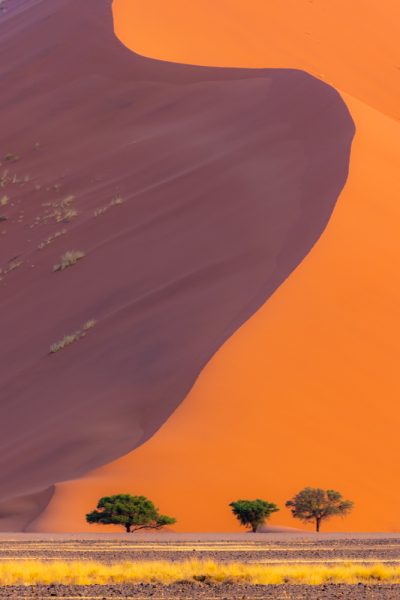 Even this second image is with a 70mm lens. You'll quickly find out in Sossusvlei that the tunes look the best with some telephoto compression.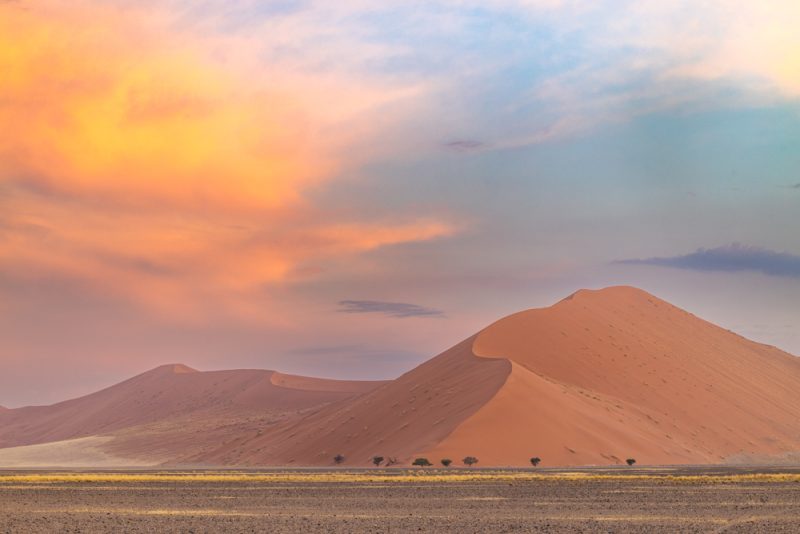 The Dead Forest
This place has no official name. However, I've started calling it The Dead Forest.
It's not Deadvlei, but it's the similar sort of thing. There was once a riverbed here, but that's now dried up and only gets occasional rain. As a result, the forest here has died. But, being so dry, most of the forest still sits.
You'll find this location basically opposite side of the road from Dune 39. It's not super obvious, but just park and wander through the dead trees.
I've never seen another photographer stopped here and I'm not really sure why. It's just a fantastic place for photos. I like this spot particularly at sunrise as the sun rises through the valley of dunes and offers some incredible back light for the trees.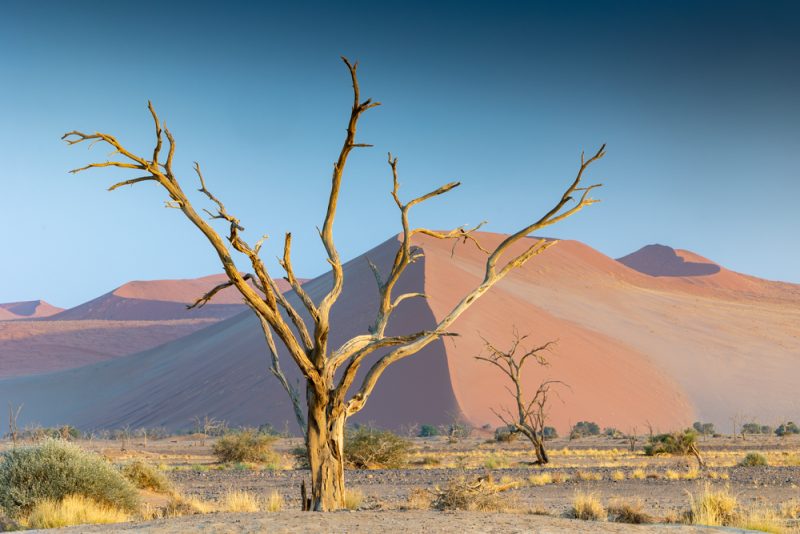 The classic photos here use the dunes in the background. However, I also really like using trees as subjects with heavy back light.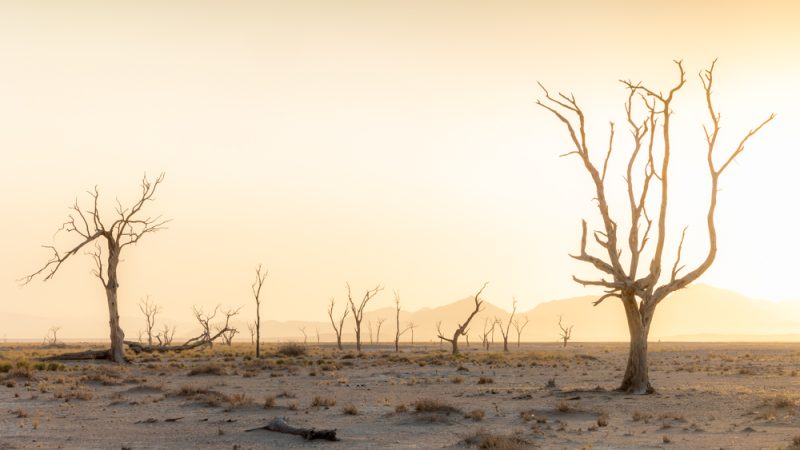 There's also some really beautiful images of the layers of the dunes with the sun rising on top of it all.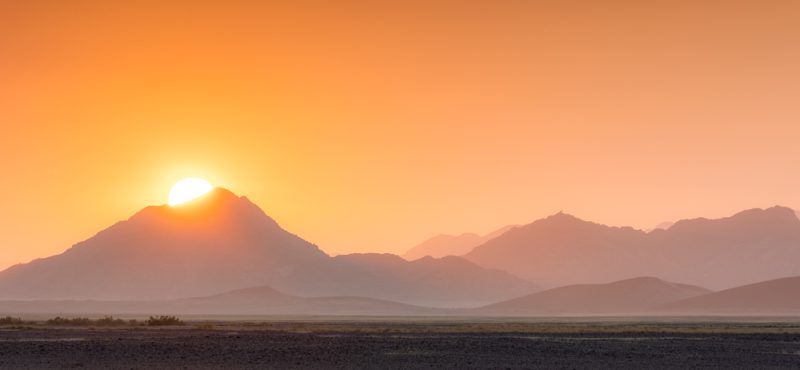 Hidden Vlei
Over near Deadvlei, Hidden Vlei is aptly named. In fact, until you're right on top of it it's hard to know it's there at all.
To find Hidden Vlei, you basically need to go to the Deadvlei parking lot and then start walking the trail towards Deadvlei. On that trail, you'll see two trails. You'll find the trail that goes to Deadvlei. And, you'll see a trail of footprints that head up a ridge along a giant sand dune. If you head towards that dune and then turn left, you'll find Hidden Vlei.
It's not an obviously awesome photography location like Deadvlei, but there are lots of good photos here.
The dried up mud itself makes for a beautiful image. Especially if you can find some flowers sprouting out of the mud.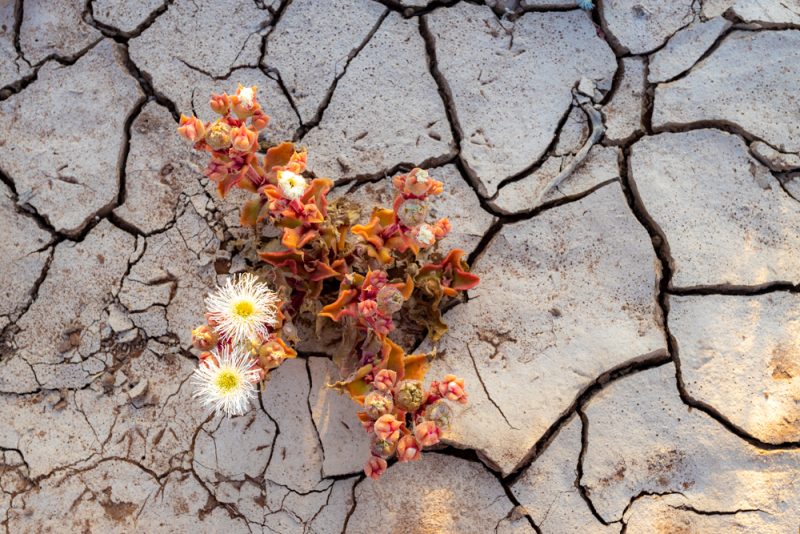 You can also use that dried mud as a foreground for sand dune images. I looked around to find something in the mud, too. In the end, I found these bird prints and I think that really helped my image.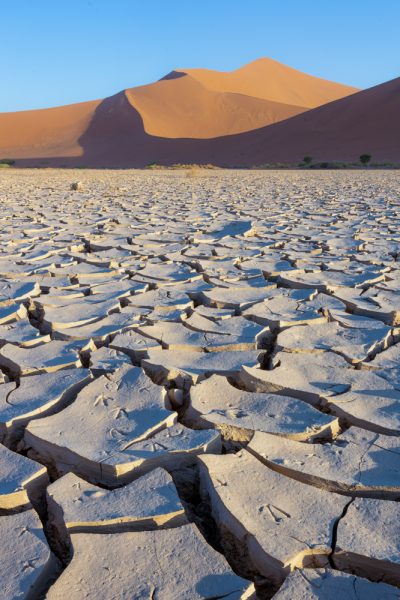 Sesriem Canyon
When you get tired of photographing sand dunes, there's also a location called Sesriem Canyon that's a lot closer to the village than the other spots.
The canyon itself isn't crazy photogenic.
However, it's still worth a visit. I especially like it at sunrise. So, if you're looking for an easy photo spot before heading out of the park on a long drive. This is a good spot.
It's also a good spot to find baboons, who are often lurking around the car park.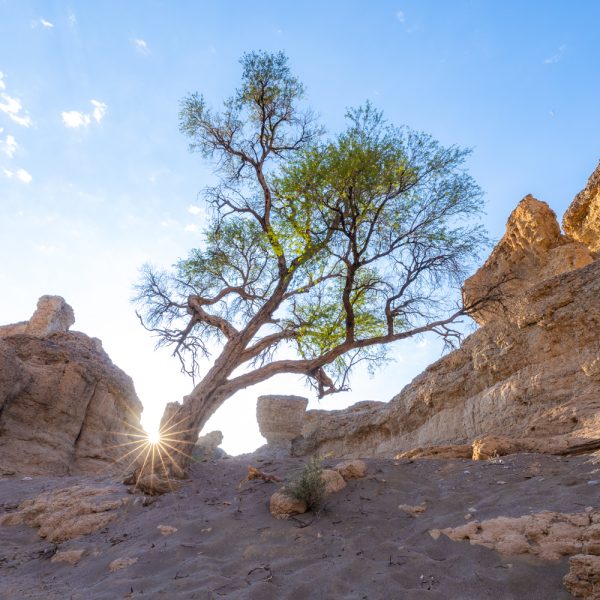 Wildlife: Oryx, Springbok, and Ostrich
It's more than just sand dunes and dead trees in Sossusvlei. There's actually a lot of wildlife in the area. The thing you'll most often see are Oryx. In fact, it becomes a bit of a game to see if you can find a way to photograph an Oryx with a perfect dune in the backdrop. With a little patience, it's not that difficult.
There are also Springbok and Ostrich basically all over the park.
Be very careful when driving early morning and early evening as there are often animals crossing the road and accidents do happen.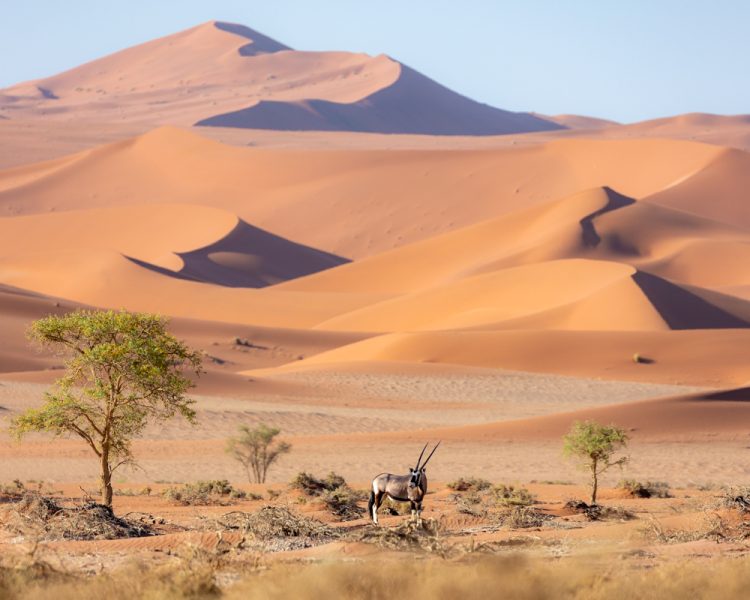 Camera Gear for Sossusvlei
The thing that I was surprised to learn in Sossusvlei was that I'd need a long lens. In fact, on all my trips to Sossusvlei the lens I use the most is a 70-200mm. I've also used my 100-400mm lens a lot.
One lens I didn't use at all in Sossusvlei was my ultrawide lens. Normally, I use my 15-35mm lens a lot. But, it's rare I even put on my 24-70mm.
You'll also want a fairly sturdy tripod. There can be extremely heavy winds in the afternoons in Sossusvlei, so you'll need a tripod strong enough to keep getting sharp images.
As for filters, it's not really necessary. I carry a 6-stop ND filter with me everywhere. And, I have on occasion used my 6-stop as we've had some clouds on occasion that I want to put into motion.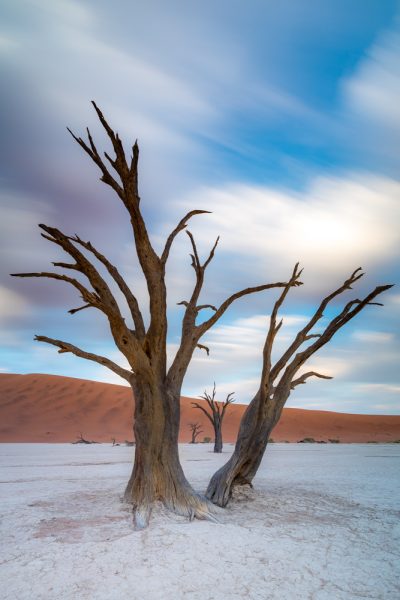 How Much Time Do You Need?
I think you'll want to spend 3 nights in Sesriem. This will give you 2 full days in Sossusvlei. You can essentially set an itinerary like this.
Arrival Day 1: Head into the dunes and photograph Dune 39.
Day 2: Sunrise at Deadvlei. Sunset at Dune 45.
Day 3: Sunrise at The Dead Forest. Sunset at Hidden Vlei.
Day 4: Sunrise at Sesriem Canyon and leave the park.
Best Time of Year for Sossusvlei Photography?
It's one of those classic things to say, but is so true: there is no bad time to visit Sossusvlei.
That being said, I'd really recommend checking to see when South African school holidays are on. The park gets busier and louder when the South Africans and their kids head into the park.
Personally, I like the dry season. However, during the rainy season you do have the chance of nice light and clouds. The risk is that it can get kind of hazy.
Photography Tour to Namibia
If you're looking to join a photography workshop, I do offer a trip to Namibia every other year. For more information on those trips, visit this page.
Independently or with a tour, you'll absolutely love the Sossusvlei area. It's a natural wonder and one of the best places on the planet for photography.