I'm obsessed with wildlife photography. For me, there's nothing more special than spending a day in the presence of wild animals watching them live free. One of my favourite places on the planet for wildlife photography is Namibia's Etosha National Park.
Etosha might not be the best place in the world to see the Big 5 – there are no buffalos or hippos here. But, the wide open spaces lead to some spectacular image. There is also always this soft dusty light which leads to some really cool photos.
This below is a bit of a guide to the wildlife photography at Etosha National Park.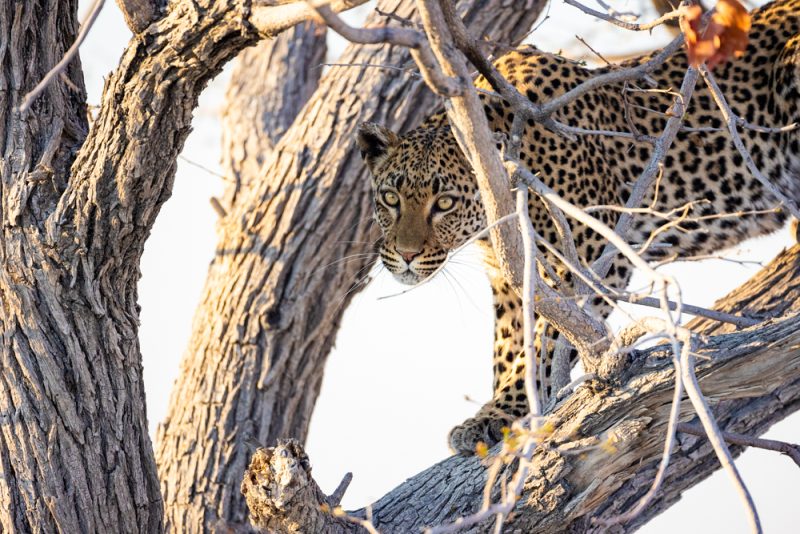 The Rest Camps
There are essentially 4 rest camps in Etosha. They all have their advantages and disadvantages. I have my personal favourites, and my reasons for spending time at more than one rest camp. And personally, I think you should spread out your nights among multiple.
I'll go over the rest camps from west to east.
Dolomites Resort
This is likely the least popular of the rest camps. The reason it's not all that popular is because the wildlife is most sparse out to the west. Unless you're travelling from Angola or Opuwo, it's not likely that you'll want to spend too much time here. However, it is nice for a night if you're coming in from the west.
Okaukuejo Resort
This is the most popular rest camp in Etosha National Park. It has the best facilities and a nice waterhole that you can walk to from the main areas of the camp.
The hotel rooms in the lodge are nicer than any of the other camps and there's a nice range of room options.
There's a really good amount of wildlife right around the camp. We've had lions wandering around the gates at nights, there are huge groups of elephants that wander by, and there are large herds of zebra and springbok around this area.
That said, it's also the busiest camp.
Personally, I'd recommend spending 1 or 2 nights here. There is a campsite here as well as the lodge.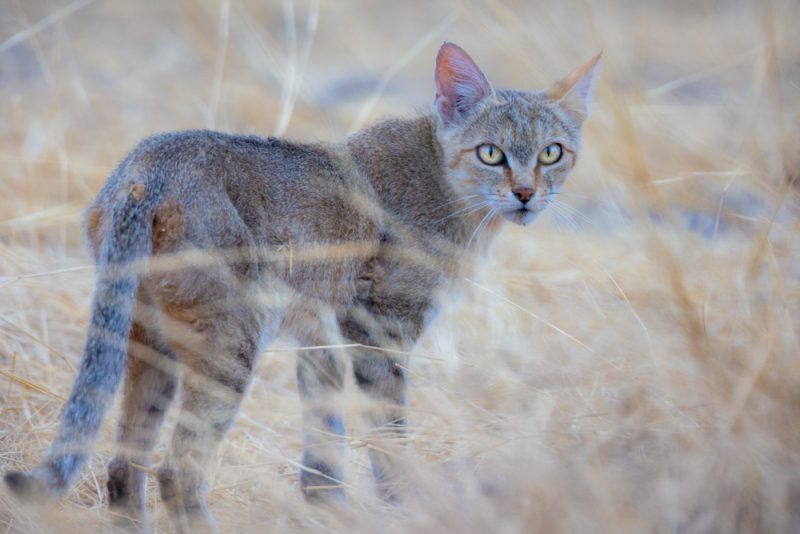 Halali Resort
It's kind of funny but Halali Resort is both my favourite and least favourite camp.
I love the area it sits in. It's full of cats. I've seen plenty of leopards in this area. I've even seen an african wildcat roaming around here before.
The waterwhole might be the coolest in all of Africa, too. The way there is a sitting area up and above the waterhole makes if feel like you're right in there with the wild animals. It's black light lit at night and there are always interesting sightings.
However, the conditions at Halali Resort are getting bad. There's a desperate need for renovations, or at least maintenance. The level at which the NWR is letting things go at Halali is embarrassing.
There is also a good campsite here. But, again, the facilities need work.
Namutoni Camp
I'm not sure if there's plans to build a lodge here, but there should be.
Namutoni Camp is awesome. But for now only campers have the ability to take advantage of the spot.
For whatever reason, I feel like the wildlife sightings here are the best in the whole park. We've seen so many lions in this area it's incredible.
What Camera Gear Do You Need for Etosa?
Generally I say that a 100-400mm lens is good enough for a safari.
However, my answer is different with Etosha National Park.
Etosha is massively wide open. You can see things for miles. As a result, when you spot wildlife it's not always closeby. As a result, I'd say the best lens for Etosha National Park is the biggest lens you can bring. I tend to use a 500mm lens here, but I've used as much as 1000mm!
The good thing is that there is lots of light in Etosha, so you can get away with a lens that has a more narrow aperture like f/8. Or, you can use a lens like a 300mm f/4 lens and add a 2-stop extender.
I'd also recommend that you bring 2 camera bodies. You can keep a lens like a 70-200mm lens on one, and then a longer lens like a 500mm lens on the other one. It's hard to change lenses in a vehicle, and it's also very dusty in Etosha so you don't want a bunch of dust all over your sensor.
You don't need a tripod, but maybe bring a beanbag to set on your car's windowsill.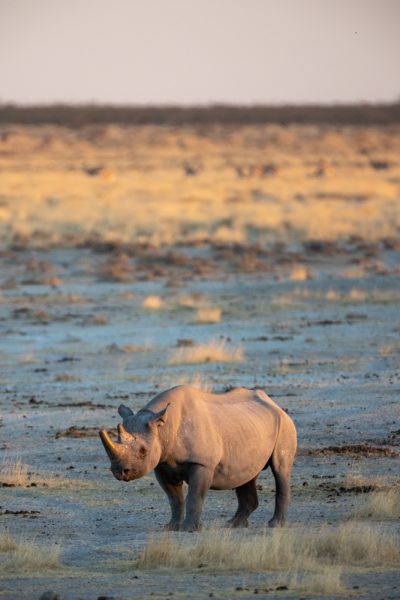 Wildlife You'll See in Etosha?
As I mentioned, you won't find hippos or buffalo in Etosha, it's just way too dry for them here. However, you will find basically everything else.
There are rhinos here – both white and black. But please remember not to share the locations of rhinos. Poaching isn't a massive issue in Etosha National Park, but it's still something to be aware of.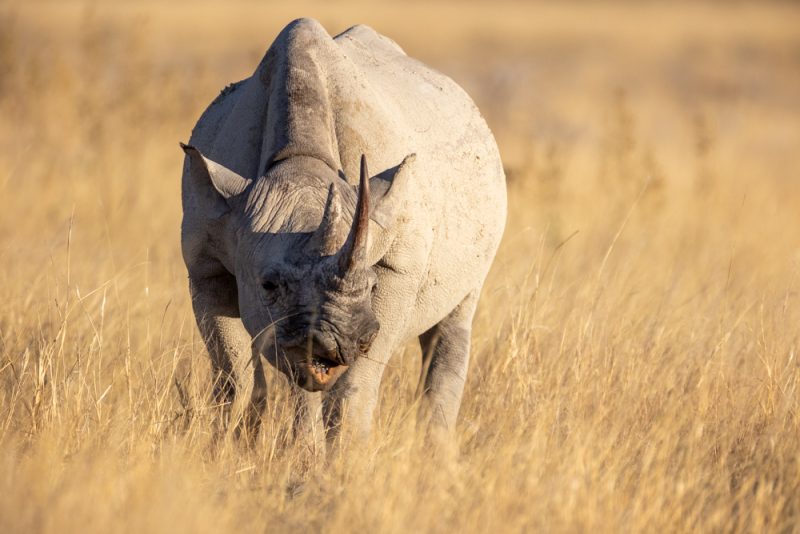 Lions are spotted around the waterholes in the park quite a bit. In fact, I'd say it's very rare for a trip to Etosha National Park not to have lions.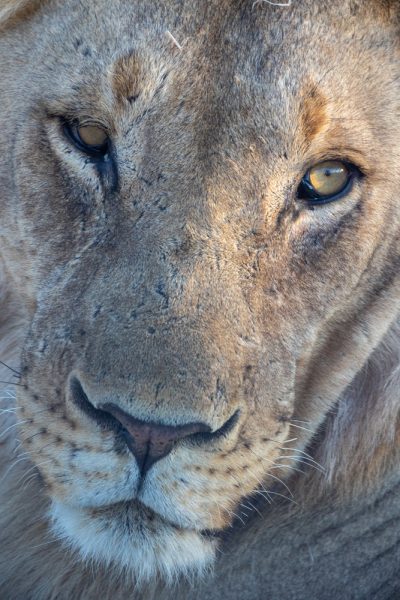 There are leopards in Etosha National Park, too. In fact, it's a really great place to find leopards. I would say that about 50% of my trips here have a leopard sighting. Usually these sightings happen in the area of the main road around Halali Camp.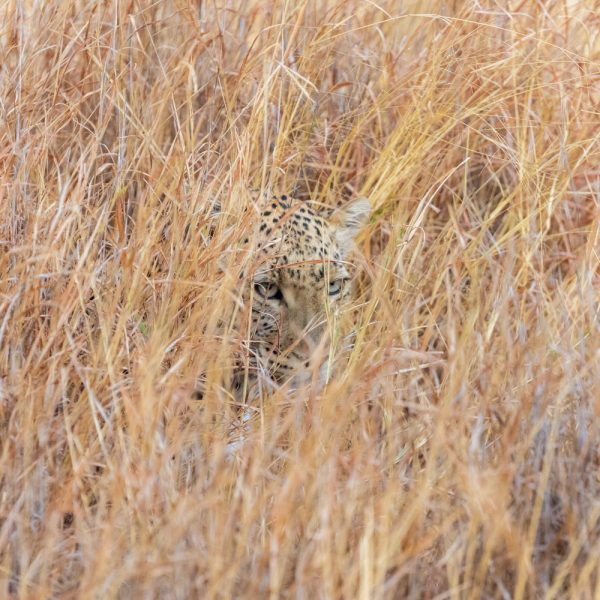 Now, I've spent about 50 days in total in Etosha and I have only seen cheetahs once. But, when I did, it was a mother with 2 cubs and an incredible experience.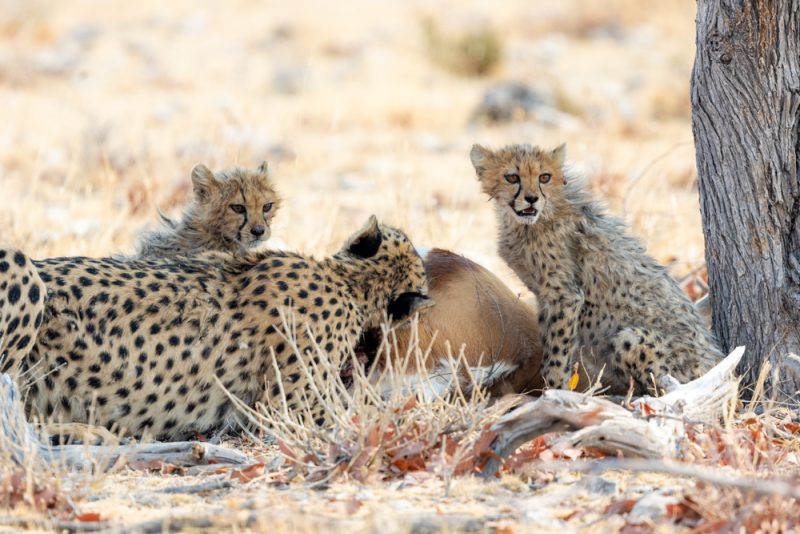 Of course, you'll definitely see elephants too. There are some really large herds over in the area around Okaukuejo. And over in Etosha you often see some absolute giants.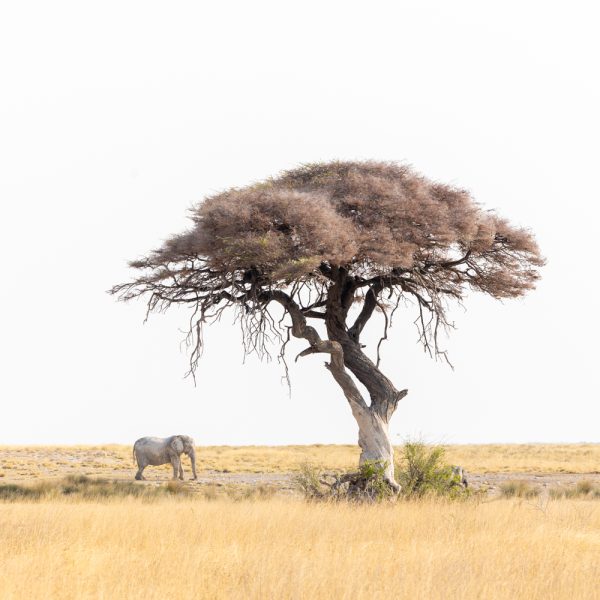 There are plenty of zebra, and other antelope as well. The giraffe are almost always around. I've seen as many as 20 giraffe at one time here. On almost any trip to Etosha you'll also see a hyena or two.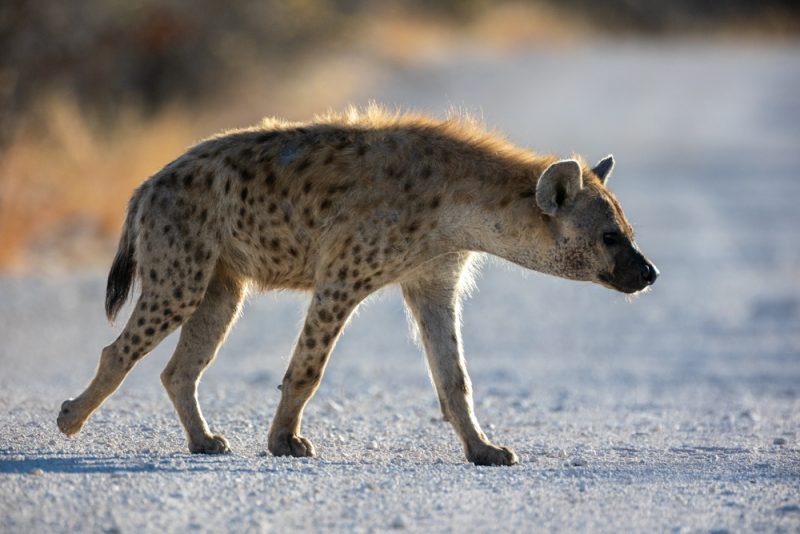 One of my favourite animals in Etosa is the Steinbok. They are tiny antelopes and often found in the shaded areas near the roads.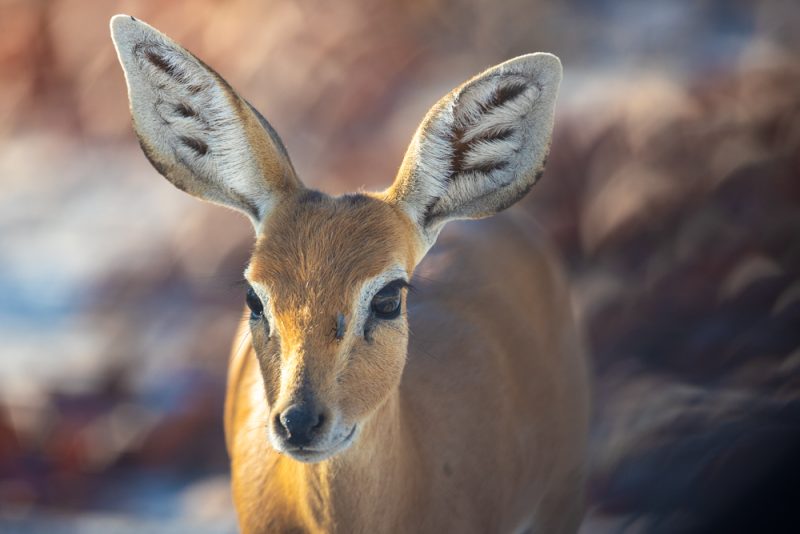 There are also lots of birds here. You'll find marial eagles, secretary birds, kori bustards, lilac-breasted rollers, and all sorts of hawks and other birds too.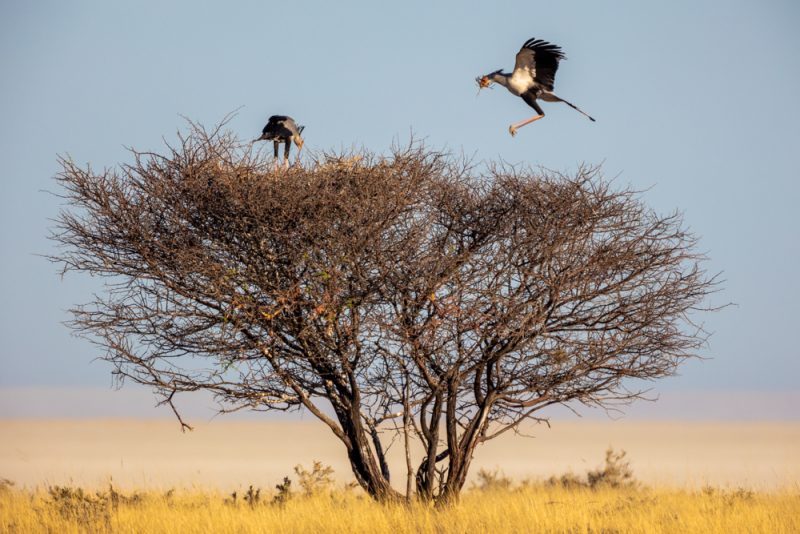 Best Time to Visit Etosha National Park?
In my opinion, you definitely want to visit Etosha National Park towards the end of the dry season. In the dry season, the wildlife has to congregate around the waterholes, so they're much more visible. In the rainy season, they can disappear into the forests and bush and live off of the rain water in puddles.
It's quite incredible actually. I've been to Etosha at the very end of the dry season and it rained. The day before we had dozens of awesome sightings. The day after it rained we hardly saw anything.
The best months for the dry season are August to the end of October.
Time Needed in Etosha National Park?
The answer for how much time you need is: as much as you can have.
There is no maximum for days here, you'll absolutely love it.
That said, I'd say that to properly experience it you definitely need at least 2 full days. Personally, I'd recommend 5 nights:
Night 1 and 2 at Okaukuejo Resort
Nights 3, 4, and 5 at Halai.
On day 6, leave the park via Namutoni Gate.
Photography Tours in Etosha National Park?
If you're looking to see Namibia, I do run a photography tour to Namibia that passes through Etosha National Park every other year. If you'd like information on that tour visit this page.
If you plan on visiting Namibia independently, you will also have an amazing time. Just be sure to plan accordingly as the conditions and roads in the country can be a challenge. That said, the challenges are well worth it. This country is phenomenal.