I love the view from well above the ground. I always take the window seat on planes because I really could stare out of those little oval windows and down on the world below for hours on end. Some of the most amazing sights are seen from well above. Unfortunately, more often than not, those tiny air planes windows obscure themselves with cracks, dirty, moisture and frost. One of my favourite aerial sights is the point where the ocean runs itself into land. One of the most spectacular places where this happens is the coast of Peru, and, fortunately for us, there is a way to experience it without struggling to peer though the small scratched window of a Boeing 747.
On rare days when the sun breaks through the thin clouds of the coast of Lima, in the district of Miraflores, winds push gently into the walls of the coastal cliffs and lift upwards softly. As the blue pieces the white sky people race to the shores of the Pacific with parachutes strapped to their backs. Paragliding the coastline of Lima is one of the most spectacular ways to experience this amazing location, and provides photographic opportunities available by no other means.
Experienced paragliding pilots strap you into surprisingly comfortable harness seats and lift from the ground almost effortlessly. Like the Andean Condors, the paragliders use the strong thermal air systems to soar carelessly like bids over the surfers that ride the constantly crashing waves on the shoreline.
The pilots guide you over the rooftops of the five-star hotels. Below, alongside the swimming pools, lay tourists looking up in envy waving as is they know you. As the trip weaves farther down the coast you will fly over Larcomar which hangs vicariously over the cliffs peering across onto the blue of the pacific ocean. Shoppers can't help but stop what they are doing and pointing out at you as you sail past. On your return look down on the romantic "park of Love" (Parque de Amor).
As passengers sit in harnesses high above the roads and walkways below the view never quits, it reaches out for miles. The high-rise condos, hotels, and office buildings stretch out in land, and offer a modern perspective of this historic city. This coastline truly is one of the most magnificent in the world, and the best way to drink it all in is via a calm ride in the saddle of a paraglider.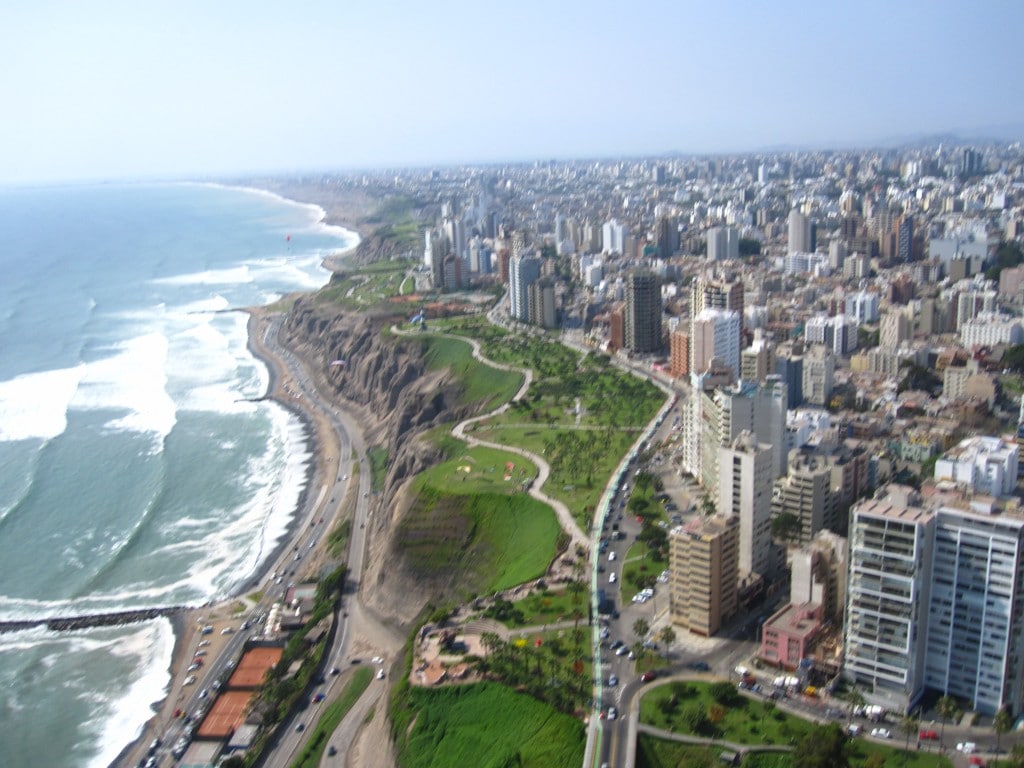 Where to Paraglide in Lima
If you're looking to go paragliding over the coast of Lima, the best place to book and adventure is Costa Verde Lima. I've gone a number of times with them and always had a great time.