There's quite a bit of information out there on the net on how to get from Mongolia into China on a budget and in general, but most of the articles are fairly vague or don't have all the information in one place. I'm hoping that this article will clarify everything and all the options on how it's possible. Note that this information on the border crossing explains the most popular border crossing between Mongolia and China only. Moreover, it only explains the border crossing on a budget. Lots of travellers go from Beijing to Ulaanbaatar on the train directly which is great, and hassle free, but it can be expensive, too. Most tickets for that train to Mongolia cost about $250. If you cross into Mongolia the way I did it, it shouldn't cost you more than $100, although it's much more of a mission for sure. This is how to do it.
First Step: Get to Erlian (Erenhot)
Erlian (二连), which is also known as Erenhot, is the border town on the Chinese side of the border. The town doesn't really have much to offer in itself. But it's pleasant enough. It's also the best place in the world to stock up on gear for Mongolia. The market has really cheap prices. If you need to buy things, do it there as prices in Ulaanbaatar are insanely high for outdoor gear.
Anyways, getting to Erlian is fairly simple from most places in northern China. From Beijing it's about an 8 hour bus ride and should cost a little over 100 Yuan. Be sure to book your tickets in advance as the buses fill up pretty quickly. Another popular place for jumping onto Erlian is Hohhot. Hohhot is especially popular for travellers because it's the best place to get a visa for Mongolia in China. It's possible to get your visa there in a day and is relatively hassle-free. From Hohhot, it's about 7 hours by bus to Erlian. Our bus ticket to Erlian cost 92 Yuan. There are several buses in the morning, though we caught one at 12:30pm since we weren't leaving for the border until the morning.
There is also a train that goes from Hohhot to Erlian but there seems to only be hard seats available and it takes 12 hours.
Step Two: Spend a Night in Erlian
It's not completely necessary to do this step. You can also arrive in Erlian and immediately arrange a way across the border. However, we only had a 30 day visa for Mongolia, so we didn't want to waste a day of it in at the Mongolian border id we missed the train. Staying in Erlian is a good option, though, because it means you can get an early start at the border crossing. It also means you can do some shopping, if you need to. There's also dinosaur museum just out of town as well, which might be of a bit of interest to you.
As for hotels in town, there are a cluster of them near the trains station. We stayed at Tai An Hotel (there's a screenshot of the location below), which was decent. It cost 100 Yuan for a double room. There was no wifi, but they did have a LAN cable for internet and the net was really fast. The rooms are also quite nice and there was reliable hot water in the showers.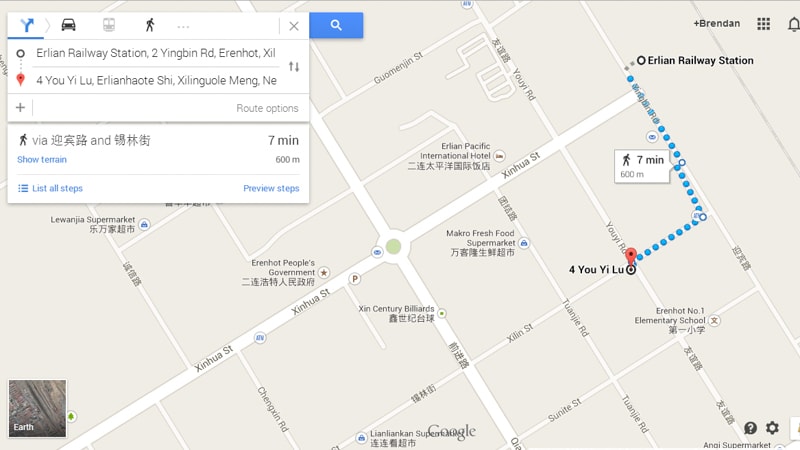 Step 3: Crossing the Border to Mongolia and Zamiin Uud
If you look at a map, you'll think it's an easy border to cross. It's only about 3km from Erlian to the Chinese side of the border, than it's another 1km across the border, and then you're in the Mongolian town of Zamiin Uud. In reality, it's a giant pain in the ass for a couple reasons. First of all, you can't walk across the border, so you need a vehicle. Second of all, the Chinese immigration line is stupid. There is only one line open and it can take hours. We got fairly lucky and it only took 45 minutes. Thirdly, you can't just take a taxi across, so it has to be in a vehicle specific for the crossing. Anyways, these are your options for the crossing.
Crossing from Erlian to Zamiin Uud in a Jeep
This is the most popular option for travellers not because it's the easiest, but because it gives them the greatest chance to get a ticket to Ulaanbaatar on the train for the same day. The procedure is fairly straight forward, but quite frustrating. Firstly, you'll need to go to Dinosaur Square (screenshot below) where you'll see the jeeps. Then, you'll have to negotiate the crossing. The price is usually 70-100 Yuan. Be sure to be clear on the time of departure, or the vehicle may take a while before you go. We got to the square at 8am, and left at 930am. We were the first of all the jeeps to leave. If you want to hire out a jeep for yourself, it'll cost you between 600-1000 Yuan depending on your negotiating skills.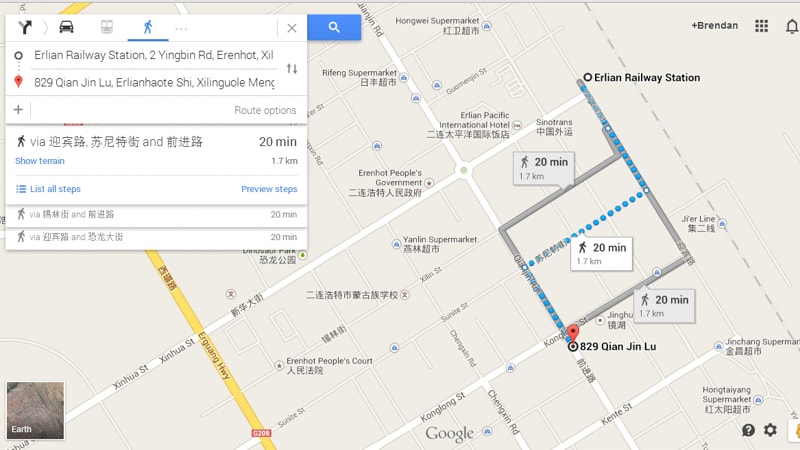 The jeeps aren't comfortable. There was 10 of us plus a driver squeezed into ours. We were all on one bench of seats literally on top of each other. However, it's not really much of an issue as you only travel really short distances. The jeep takes you to the Chinese immigration. Once inside, you just pass through the exit line which for no reason at all takes forever. Why it takes 5 minutes to process each person to leave the country is beyond me, why there is only one line for dozens of people is also a question. But, the answer we've been saying for any question we've had in the past 2 months is: China. Also, in older accounts of this crossing, it was mentioned that you had to pay a 5Yuan exit tax somewhere. When we crossed in July 2014, this wasn't the case. Once your whole group is through immigration, you'll get back into the jeeps and head to Mongolian immigration. You'll likely get stopped at least once by the military too. Then, the Mongolian line is much quicker and you'll be into the country.
At the border, on the Mongolian side, there are 3 or 4 bank machines if you need to draw money. However, there are also a number of them at the train station, which is where the jeep will drop you off after everyone is cleared. We finally made it to the train station at about 11:30am which we felt was fairly good considering the circumstances and stories we heard of people not arriving until 4pm.
Taking the Bus from Erlian to Zamiin Uud
The bus is the cheapest option, but is likely going to be the slowest way of getting to Mongolia from Erlian. From the sounds of it, there are only a couple buses a day. They leave around midday. They are fairly cheap, but if you take this option you'll likely arrive too late in Zamiin Uud to get tickets on the train to Ulaanbaatar. Moreover, since you'll be crossing with all the people from the bus, the actually time at the border could double or triple. If you're on a strict budget and you don't mind spending a night at the Mongolian border town, it might be an option. Otherwise, it's probably not all that enjoyable.
Taking the Train from Erlian to Mongolia
This is the most comfortable option, and also fairly reasonably priced. The only issue is that you might have a problem getting onward to Ulaanbaatar that night. Also, the train from Erlian to Mongolia only leaves a couple times a week. And when it leaves, it doesn't until about 7pm (check the station for current times). That being said, if you don't mind risking it, crossing this way is the easy way. Tickets from Erlian to Zamiin Uud cost 67 Yuan and all the border proceedings happen on board the train. You might wait a while at the border on the train, but it's fairly simple.
This train continues on to Ulaanbaatar, but since you can only buy tickets for Mongolian trains in Mongolia, you can't buy tickets until you've crossed the border officially. It might be a good risk, though, as you can buy tickets to Ulaanbaatar on board for about 200 Yuan if there are still some available. If there aren't, the worst case scenario is you get off in Zamiin Uud and stay at one of the hotels at the station and go and book your tickets to Ulaanbaatar first thing the next morning. If we didn't have the visa issue we did, we would have done it this way.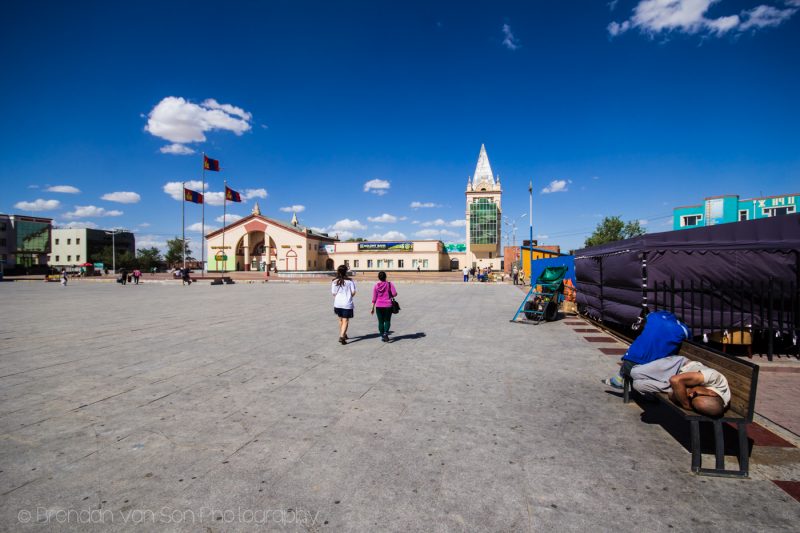 Step 4: Getting to Ulaanbaatar
This is the easiest step, although it's also the one that people stress most about. There are 3 options for getting to Ulaanbaatar despite the horror stories people tell about the train being the only option.
The Train to Ulaanbaatar
You book tickets on the second floor of the train station. The station isn't the big old-fashioned building that you'll expect when you arrive at the train station's square. It's actually the building to the left. If you have some time to kill at the station, there are some VIP rooms in that old building. We paid 1,000 (50 cents US) an hour, and they had WiFi and comfortable seats to relax.
As for the train, it's an old Russian train, and it's pretty sweet. We paid just 31,000 Mongolian (16USD) for soft sleepers to the capital. It left at 6pm and we arrived the next day in Ulaanbaatar at 9am. It was fairly comfortable. It was pretty hot, but the windows opened allowing us to get some cool air in, so it wasn't an issue. The landscapes are amazing and a really cool introduction to the country.
There is at minimum a train every day. The daily train leaves at 5:25pm. The day we went through there were actually 3 trains to Ulaanbaatar with one at 6:05pm and another at 9:00pm. It seems like Tuesday and maybe Sunday are the only days there's only one train.
Bus or Van to Ulaanbaatar from Zamiin Uud
When we arrived at the train station there weren't any vans leaving to Ulaanbaatar, however, by late afternoon there were dozens of vans, minibuses and jeeps, likely collecting all those who couldn't get on the train. None of them looked comfortable, and all of them were packed to the teeth with packages and goods. I'm not sure on the exact cost of the trip in the van, but I'm told it's about 10USD. The trip takes about 10-12 hours. Unless you're in a hurry, broke, and desperate this is probably your last option.
Private Car from Zamiin Uud to Ulaanbaatar
When we arrived at the train station there were a couple people that approached us with private cars for shared rides to Ulaanbaatar. They told us the trip would only take 7 hours. And although we were dead set on the train – because trains are awesome – a couple locals from our group jumped in with them without a second thought. We were told a private car to Ulaanbaatar is about $120 split between as many people share it. I would assume somewhere between $30-50 USD would get you there.
Revisions? Updates?
This post was last updated July 2014. If you have had any different experience or have an update on proceedings, please let me know in the comments and I'll update the article accordingly. If you have any questions, please drop me a comment and I'll get to you as soon as possible.