Bolivia has long been a favourite among backpackers and adventure travellers due to the simple fact that it is very affordable to travel. The costs of things like eating out at a nice restaurant, sleeping at a budget hotel, and going for a night drinking on the town often seem too good to be true. The beauty of Bolivia is there really is something for every budget. If you're seeking comfort, although it might not be up to "Western" standards, it is available. If you're looking to save your pennies, though, this may be the best place in South America. The true beauty of Bolivia is that travelling on a budget doesn't mean that you'll have to compromise any of your travel ambitions because you can't afford it.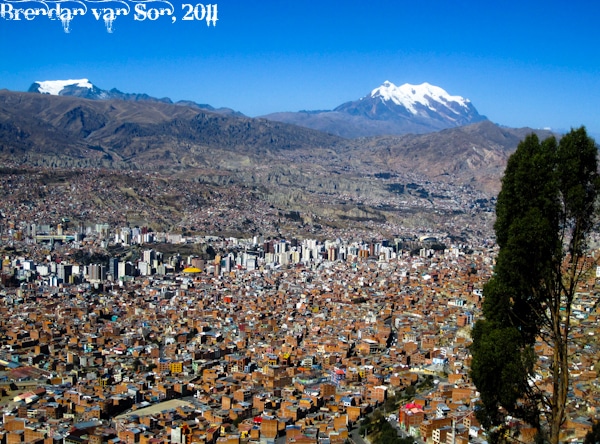 Accommodation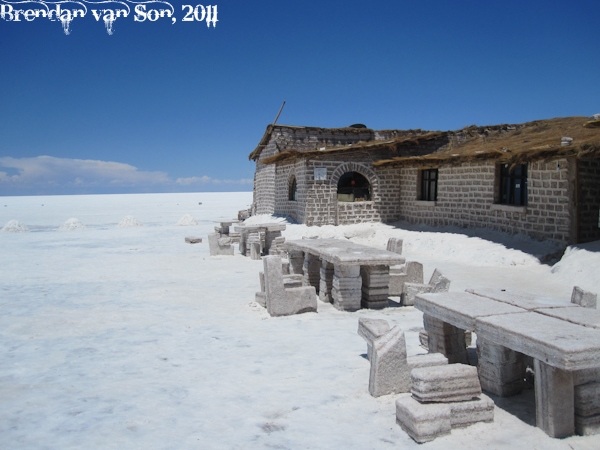 You'll find basically all kinds of accommodation in Bolivia. From run down hotels that offer very little more than a box with a bed and a toilet in the corner all the way to the big hotel chains like the Radisson in La Paz. The best value in the country are family run hotels which are often called Hostals or Alojamientos. There are very limited camping opportunities in the country but you may find a few in the altiplano. Backpacker hostels are abundant, they are cheap although you can often find a hotel for the same price.
Hotels
The range of hotels and prices from 4 and 5 star hotels all the way down to family run Alojamientos.
Radisson Hotel in La Paz (four star) = 80$ for a room
Hotel Rosario in La Paz (three star) = 65$ for a single, 70$ for a double
Hotel Estrella Andina (two star) = 15$ for a single, 25$ for a single
One star hotel = 8$ for a single, 12$ for a double
A night at the famous salt hotel = 25US$
Hostels
Backpacker hostels are just about everywhere you need to go in Bolivia. You'll find them from the capital to the salt flats all the way back to Lake Titicaca. The prices are generally quite low, but maybe not as low as you might expect in comparison to the hotels. However, hostels have a few advantages such as kitchens, free wifi, and a number of other travellers to join forces with on the road. Below is a chart provided by Hotel Bookers that gives you an indication of the prices of each hostel. Look to pay somewhere between 6US$ and 12US$ for a hostel dorm bed and between 15US$ and 25US$ for a private room.
Camping
Bolivia is a country that would be great for camping, but it's not something that's overly popular outside of the hiking trails. I guess the reason that it's not popular is because it is so cheap to crash in a hotel or hostel it doesn't make sense to struggle over a camp. There are some camping areas near the National Parks and on the Alitplano although they are scarce. Look to pay about 2US$ to camp somewhere if you find it.
Food
In Bolivia it is as cheap to eat out as is it is to cook at the hostel so there really is no point to cook. Traditional Bolivian food is generally fairly bland, in my opinion, but you will find international style cuisine across the country.
Restaurants
Steak dinner at a nice restaurant = 15US$
Traditional Guinea Pig = 10US$
Pasta at a mid-level restaurant = 6US$
Set lunch at a local restaurant (soup, main and a juice) = 2-3US$
A bottle of Paceña (beer) in a restraurant = 2US$

Grocery Stores

There aren't all too many grocery stores in Bolivia, you're more likely to find corner stores, but they do exist, especially in cities like Sucre and Santa Cruz. Grocery store prices won't blow you away in terms of being cheap, but they are still a better value than in the "western world"

Loaf of Bread = 0.50 Cents US$
200 grams of Chicken breast = 3US$
A dozen eggs = 2US$
Six pack of Paceña beer = 4US$
Snickers Chocolate Bar = 1US$

Transportation

Public transport in Bolivia is readily available. In fact, if public transportation doesn't find you you may be lost. In the cities old school buses decked out in colourful paint and tassles rip through the streets picking up people along the way, taxis are just about everywhere, and the bus system will take you anywhere your heart desires. The quality of transport in Bolivia is still far behind, but it will get you where you're trying to go.

5 minute taxi ride in Bolivia = 1US$
1st class public bus ride = 2US$ per hour
The public bus in La Paz = 0.20 cents US per ride

Communications

You won't find lightning fast internet here but it isn't by any means bad. There are internet and phone cafe's just about on every street so finding one is never an issue. Don't be surprised if a black out happens as is sometimes the case. The reality is, however, you won't struggle with communication in Bolivia as much as you might think.

Internet cafe = 1US$ an hour
10 minute phone call to North America or Europe = 3US$
Printing 10 pages from the computer = 1.50US$
Sending a 2 page fax to Canada = 2US$
Local call via phone box = 0.20 cents a minute

Tourist Activities

Bolivia

Tourist activities vary greatly depending not only on what you want to see but how you want to do them. You can have a private taxi take you to all the sights in town or you can join a public tour or, if you're more adventurous, you can do it by public transport. These are some prices of tours and activities I've done in Bolivia:

Death Road Mountain Biking with Downhill Madness = 45-50US$
City tour of La Paz as a part of an organized tour = 8US$
An organized tour of the Uyuni Salt flats = 25-30USD$
Entrance to a museum/church in La Paz = 3US$
A full day guided hike near Sucre = 20USD$
A tour of the Potosi mines = 11US$
A round of golf at the world's highest course including a caddie and rentals = 80US$

Questions? Imput?

If you have any questions or have noticed a price change from what is listed above you can make your comments in the comment box below. Also, if you have the price of something that you would like to see added to list you can do that as well. Happy travels