The Guatemalan population is made up of a diverse meld of people, and there is no greater place to watch the mixing of cultures than in the Chichicastenango market.  
I went into my morning at the famous market with the goal not to buy cheap souvenirs (sorry friends), but to try to capture the people that make this market so special.  
Although the majority of the shops and stalls are run by indigenous people, the swath of people that stumble, push and pull through the market is impressive.  I sat down and chatted with a number of people hoping they would let me photograph them.  Some did, some didn't, thus is life.  
The Guatemalan cowboy that is photographed below allowed me to snap one shot before telling me that he was in a hurry and turned to walk off.  As he took his first step I fired this shot, and couldn't have been happier with the outcome.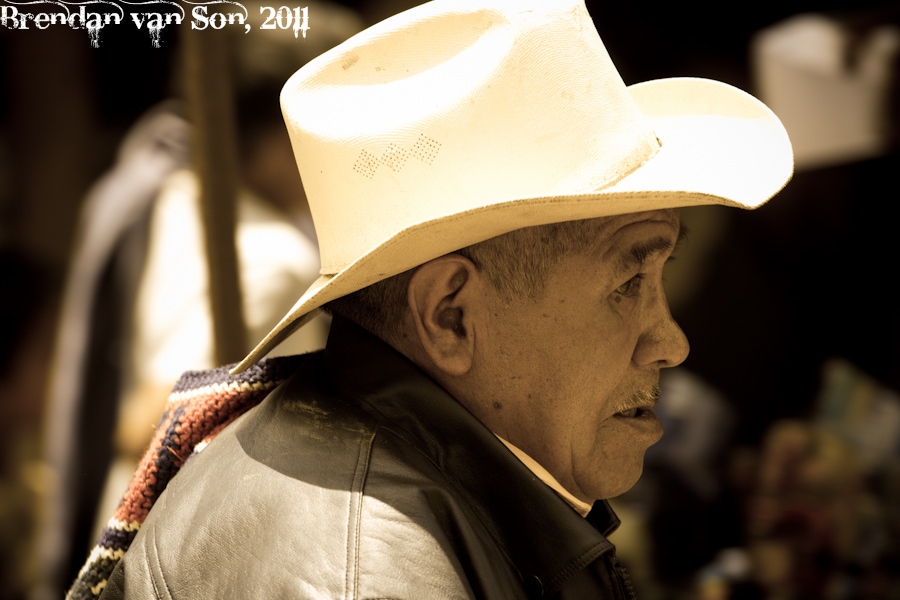 How Did I get this Photo?
Photographing people is terrifying. In fact, it's a lot like approaching someone you like and asking for a date.  The truth is, that getting a picture and getting a date have a lot in common.  To allow someone to let you take their picture you can't just barge in and ask, you need to build a relationship.  
You need to step in and be confident, funny, assured of yourself and most of all polite and friendly.  In the end, you may or may not get the photo, or the date, and you can't take that personally (it's not you, it's them).  Some people don't want their photo taken, just like some girls aren't looking for a boyfriend, but if you put yourself out there and make an effort you'll be rewarded in the end.
For the photographers this photo was taken on a Canon 60d with a 70-200mm f/4 lens. The specs are f/5.6 at 1/125 seconds, ISO 100.