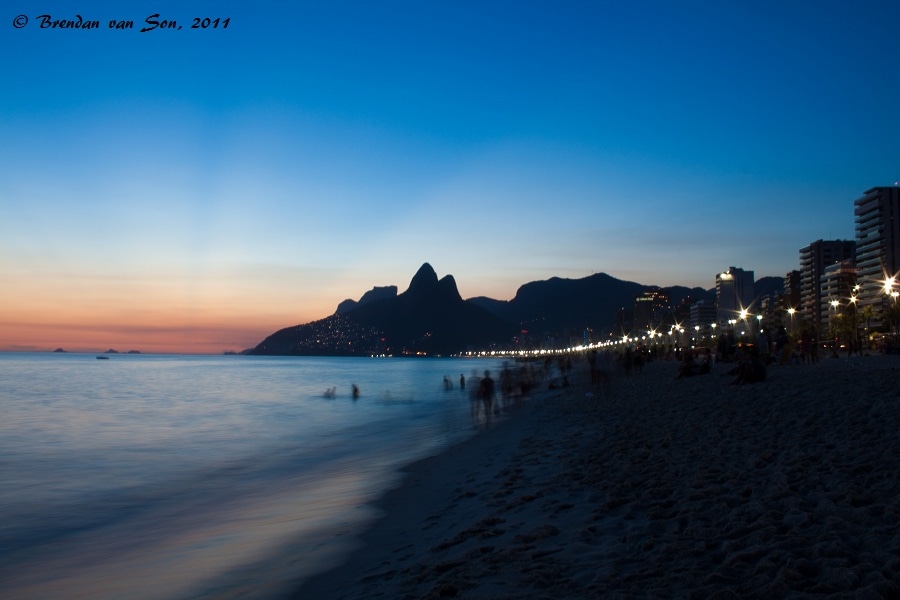 Ipanema Beach Sunset
————————————-
The Set Up
Ipanema, likely the most popular beach in Rio de Janeiro, Brazil, must have the highest percentage of beautiful people in any one place in the world. I couldn't help but getting distracted from my job of photographing the scene by the gorgeous women walking by, laying in the sand, and posing for pictures from their friends. However, I did get some shots, somehow. The beach itself is also stunning, and although Brazil may have other beaches that would be ranked higher, it's hard not to love Ipanema… and the women who strut their stuff along it.
The Photograph
I'm a big fan of shots where the water has a smooth look to it, and that was something I was trying to get here. As I started shooting I made the realization that the movement of people combined with the smoothness of the water and the still buildings along side would probably make for the best composition, and I eventually shot this, something completely different than what I had intended to shoot. Remember to stay open to changing your vision when shooting.
I shot this photo at 19mm with an aperture of f/16 and a shutter speed of 10 seconds, ISO 100, and an exposure bias of +0.7 a stop.