You know, it's funny.  I remember leaving the coast of Ghana, and heading for Togo, thinking to myself how the trip had been too easy thus far.  I had these grand dreams of writing an adventure novel about my scooter trip from Mali to South Africa.  However, nothing really exciting was happening.  Sure, I was having great travel experiences.  I was cashing elephants across savannahs, I was paddling among hippos on shallow lakes, and I was cruising through tiny villages off the beaten path.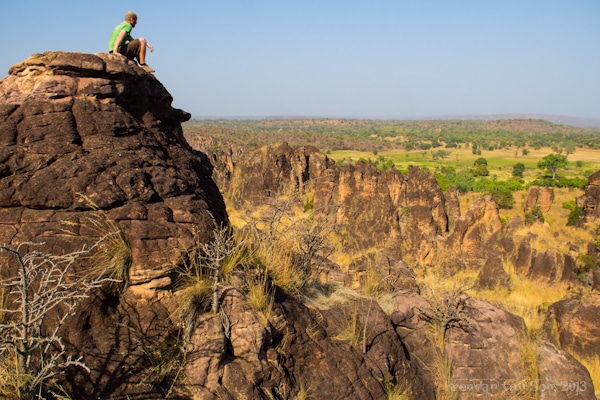 The problem is that great stories are more than just a beautiful adventure. Great stories have quicksand, dragons, and a princess. Great have trials, tribulation, adversity, achievement and a moral.
As stupid as it seems now, when I was leaving Ghana I was a little bit depressed. 
You see, sometimes you have a vision of the way an adventure is going to play out.  You think of the struggles you'll have and how brave you'll look when you overcome them.  You imagine meeting interesting characters, being chased by pirates, saving a kitten from a burning building and sweeping a beautiful vixen off her feet and riding into the sunset.  But at the end of the day, life doesn't play out like the stories.  Life doesn't let you pick and choose when you'll struggle and when you'll soar; and as I sit here in Yaounde, Cameroon – the de facto halfway point of my African scooter rally – that truth has never felt so clear.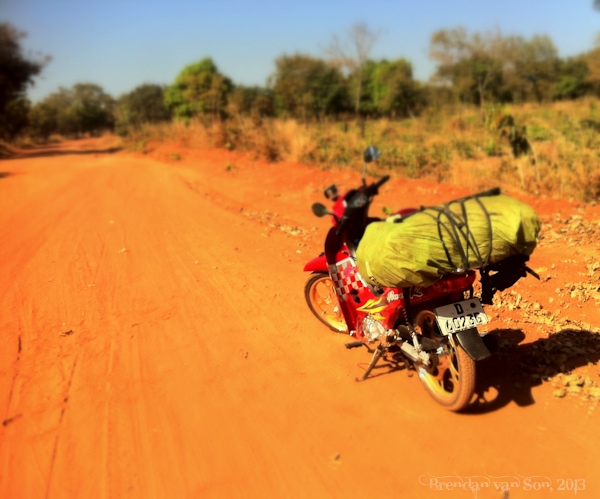 After leaving Ghana, I got my wish.  Over the past month or two I've been battered, bruised and challenged in ways I never imagined I would.  I was hit with malaria in Togo, nearly hit by hundreds of cars in Nigeria, and then I did hit the pavement in Cameroon.  The moto crash in Cameroon wore on me much more than I expected it would. 
Beyond the physical wounds I felt weak and demoralized.  A good part of me wanted to find out that Anne Murray was toast and that I'd have to finish my journey with public transport.  Another part of me wanted to find out I was toast and that I'd have to return home.
However, a week of recovery and soul-searching has brought me to a much stronger place than I have ever been in my life. I am ready to attack this world with the strength I know I have left, and I'm going to finish this great journey with a smile on my face. I know now, more than ever, what is really important to me in this world. I feel like that knowledge has given me an edge to push forward. And that's exactly what I'm about to do.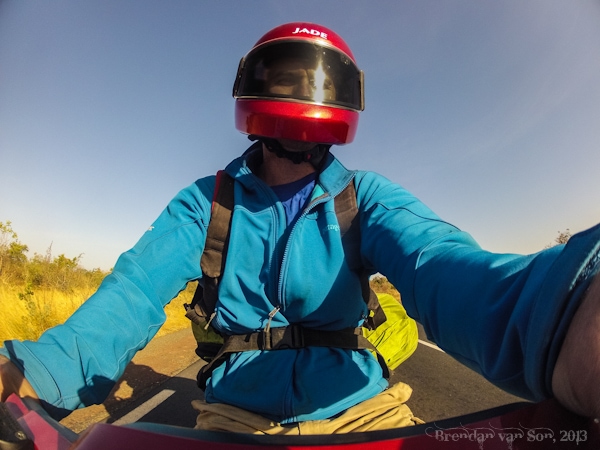 In case you're curious, here are some stats from the trip to the half way point:
Kilometers Driven: 7,281
Countries: 7
Times I've dropped my Scooter : 5
Times I've crashed into Taxis: 1
Money spent on repairs for Anne Murray total since leaving Bamako: $50
Total spent on fuel: Around $250
Random people that have caught a lift on Anne Murray: 4
Flat tires: 5
Times I fixed the fixed the flat tire myself: 0
Things stolen from Anne Murray: 1 tire pump, 2 wrenches, 3 bungee cords, and a partridge in a pair tree.
Words completed in the novel thus far: 18,083
Total days since leaving Bamako: 97
Days until estimated arrival: 97
Estimated distance left in KM: 8,000
Let's Get it!!!
As I might have mentioned, I'm fired up. I'm excited again. And, I have no idea where I'm going next.
The truth is that I have always wanted to visit Gabon. However, they have made their visa process so difficult that it's basically impossible to do within the timeframe I have available. Thus, I had planned on skipping Gabon and going around it through the Congo. But, after some soul-searching and encouragement from a Dutch couple I met overlanding down here, I'm going to head to the border and see if I can sweet talk my way into getting a visa there. If not, I'll be punished with 4 days hard driving through the jungle to Congo. Either way, it'll be an adventure.
I hope you're enjoying my African adventures. The truth is that this continent can wear on you. There are days you just want to quit. But then you have these moments in which your life feels so special, that the experience feels so valuable.
The first half of this trip was divided into two different tales: ease and trials. I'm really hoping that this section will go smoothly. But if bumps arise in the road, Anne and I both are ready to take them on.