Nearly every day I'm asked if I sell prints.  For ages, the answer has been no.  Or, at least the answer has been, "only on special occasions for special people".
You see, I've always had a strange relationship with the idea of "sales".  I've never loved the idea of money – and, for ages I didn't care if I made any of it.  That still really hasn't changed.
But, while money doesn't really matter to me, I'd be lying if I said I didn't get a massive kick out of seeing my work in print, hanging on someone's wall.  As a digital nomad, I usually only see my work on the 15″ screen of my laptop. But, I remember walking into a gallery I was a part of in Oman and seeing my photos on large sheets of paper. I was blown away.  I made that?

Quarterly Print Sales
So, while I might not care much about fortune, I do like the idea that my work could be hanging on walls of houses and offices around the world.
As such, starting today I'm announcing a quarterly print sale.  Essentially, I'm going to take my favourite image from every quarter of the year and print an extremely limited number of them.  Those images will go up for sale, signed and shipped off to whoever wants them.
The First Image
I'll be printing just 10 copies of this image.  The prints are done on beautiful Hahnemuhle Rag Satin 310gsm paper.  The size is 20″ x 30″.
As will be the case with all my prints, I'll be signing them and providing a small certificate of authenticity as well as a story to go along with them.
Each print will be numbered as well 1-10.
Moreover, this print will only be printing in this size.  So, essentially, only 10 authentic, signed prints will ever be made of this image.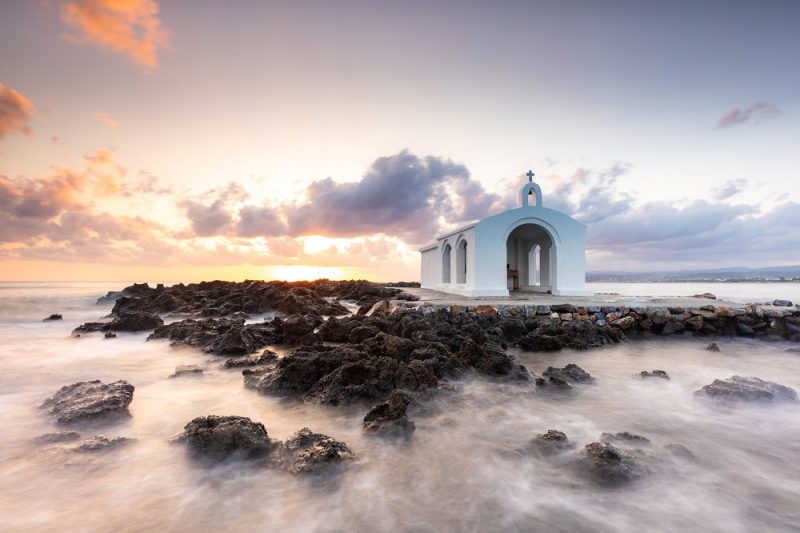 20% to Charity
I've decided that I want to send 20% of all profits from the print sales to a charity located in the country the image is from.
In this case, I'll be donating 20% to SchoolBox.org which provides informal education opportunities to refugee children in Greece.  Check out their website for information, and feel free to donate directly if you wish.
About The Image
I think a lot of you saw me make this image.
It was an epic location. It was a battle.  I drove my rental quad nearly 2 hours in the dark to get to the location.  Along the way, I nearly lost my camera as it came loose from my ride.  Then, I was only ushered out to the location because the waves along the sea break were so intense that I had to.  I battled through waist high waves to get to the church. Some waves hit me chest high.
But, in the end it was worth it.  The sky exploded in colour, and the scene could not have been more dramatic.
It's one of my favourite images of 2018 without a doubt. And I think a print worthy of hanging on the wall.
Shipping?
Worldwide shipping is included in the price. Note though that shipping time may depend on your location in the world.
The print will be shipped in a rolled tube.
I'm working with a wonderful printing company in Belfast. And all prints will be signed and shipped by September 30th.
Get Your Copy
The prints from this quarter are sold out. If you want info on the next batch from the next location, sign up to the newsletter below.
What's Next on The Photography Blog?
I mentioned at the end of today's video that we only have about 10 days left in Greece. It's crazy to think that we've been here for nearly 2 months.  Crete has been an incredible home for us, and we're going to miss it.  And, it's not over yet. I'll still likely have 3 or 4 blog posts from here, and I sill have a bunch of videos coming.
And while we're going to be sad leaving Crete, I think both Jodie and I are ready for another adventure, new scenery, new food, and new experiences.
We're heading to a conference called STS in Belfast at the end of the month.  Then, we're popping on a flight to Cape Town where we're going to be based for nearly 3 months. I'm beyond excited about that time.  We have trips planned to Namibia for my VIP photography tour there, and we'll get out for some exploration on our own in the area as well.