My vlog is consuming my life!
A couple months ago, I decided that I wanted to put a heavy amount of effort into building a vlog.  I didn't want to dip my toes into the video-making world, I wanted to dive in head first. And, that's what I've done.  I've been vlogging 6-7 times a week for 3 months now. The good news is that it has been extremely popular.  My channel has grown by about 50% in subscribers and has doubled the monthly views since I started.
The bad news is, however, that I haven't had any time to devote to this blog, as a result.
The truth of the matter is, in this industry, we need to focus on where the money is. And, sure, for a while this blog was generating decent income. However, over the past 2 years my income has come from sources outside the blog – such as the videos on YouTube.  Moreover, I love being on camera, and with this blog I kind of find that I'm hiding behind my computer screen describing the world and my work, whereas with the videos, I am out there in the world taking you through the world and showing it to you through my eyes.
Thus, it's time for some changes to take place on this blog.
No, the blog is not ending. I've had this website for almost 7 years now, and there's no way that I would ever consider shutting it down.
However, I do want to keep the focus on the video production, as that's what I'm really loving.  For that reason, rather than publishing articles on every destination, I am going to be using the blog sort of as a round-up for my recent travels.
The goal, for now, is that there will be vlogs every day of the week aside from Tuesday. On those Tuesdays when there's no vlog, there will be a blog post rounding up the videos from the past week.  That way, if you missed anything, you can just come here and see the round-up.  That round-up will be a combination of videos and photos from the week.
Cool? Everyone ok with that? Doesn't matter, it's happening anyways.
Let's face it, my blog is still in Croatia. In the meantime, I've been in Italy, France, Portugal, and the US as well.  It's time for a change that keeps things more current and exciting.
So, let's start by summing up – as quickly as I can – the past month.
A Week in Rovinj, Croatia
I loved my week in Rovinj. The town reminded me a bit more of Italy, or even the French Riviera, than it did Croatia.  But, I really liked my time there.  I spent an entire week in Rovinj soaking up life, and photographing it from every angle.  I rarely spend an entire week somewhere, but I'm glad I decided to slow travel this town a bit. It was fantastic.

Some Photos from Rovinj. Croatia
Here are a couple of my photos from Rovinj and the nearby area.
I Met a Girl
There's been a bit of an overwhelming change in my life.  I met a girl.

Back when I was in the Dominican Republic with Fathom Travel, I met a girl named Erin (from The World Wanderer).  We started talking pretty regularly, and eventually I flew to Paris to meet up with her and spend some time together.  It's been great, but also such a big and sudden change, that it has been overwhelming. Not it a bad way, just a big change that kind of came on really quickly.  And, that's not a negative thing, and Erin is absolutely fantastic. She really does just brighten up the day of anyone and everyone she's around.
Portuguese Road Trip
Erin and I travelled from Paris to Lisbon where we met up with some mutual friends.  We got a couple days together there before Erin had to return stateside, and I had a road trip starting around the country.  My road trip was amazing. It was really special. I shot photography every single day, and found some really cool locations in Portugal that I hadn't visited on previous trips.
The support in Portugal was amazing, too.  Every now and then I get recognized and stopped on the streets, but in Portugal it happened two different times which was crazy. And the comments, and support on social media from Portuguese readers/viewers was incredible.

Some Photos from my Portuguese Road Trip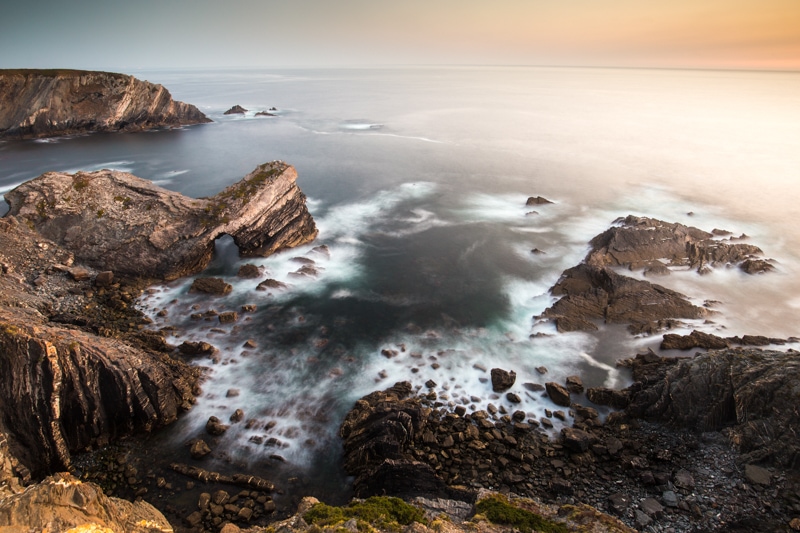 I'm in a Commercial!
On my last couple days in Portugal, a film crew came out to shoot a docu-commercial about me and my life.  I can't really announce any of the details about it yet, but I'm really excited to share it with you once it comes out.  The experience of being in front of professional cameras was beyond special. It actually really made me want to get into TV or acting to some degree. I really enjoyed it.
The commercial should be made available to the public some time in mid-August. So, I'll share it with you all once I'm allowed.

Birthday in Jersey
That all leads me to now, here in New Jersey
I'm hanging out with Erin for a bit which has been great.  And, it was my birthday a couple days ago.  Unlike past years, I'm good with this one. I'm OK with turning 32. At least it's a round number.  I spent the day doing what I love: exploring. We went out to a couple different places along the Jersey Shore.  I flew Fido for a bit, and just enjoyed life.

What's Next?
I'm here in Jersey for a couple more days, I'll likely do some exploring in New York City. And then I'm planning on heading to Toronto to see my sister, and niece and nephew. It's also my best friend's bachelor party shortly, so that's going to be fun.  I've got some other fun up my sleeve as well! Stay tuned.